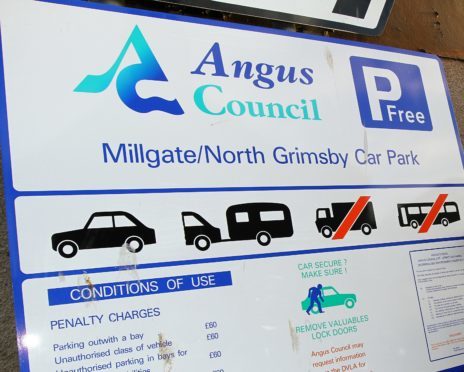 Angus South SNP MSP Graeme Dey has entered the escalating row over the introduction of parking charges, claiming the scheme could ruin local businesses.
Angus Council has said it could rake in £700,000 a year when the on and off-street charges return in October.
Consultation on the proposal is about to get under way but an online petition calling for a free first half hour has already gathered more than 2,500 signatures.
It was launched by Brechin campaigner Jill Scott, who believes a suggested £1 charge for the first hour will discourage drivers from stopping to nip into local shops and create "tumbleweed towns".
Mr Dey has questioned whether a detailed economic impact assessment has been carried out in relation to the proposals.
He said: "I understand the council's desire to raise additional revenue.
"But I also share, absolutely, the concerns being expressed by constituents and businesses across Angus South about the likely implications of introducing parking charges in Angus.
"The Scottish Government, through the Small Business Bonus, provides significant support to small town centre shops.
"I fear the actions of Angus Council will undermine that support and impact negatively on these businesses by driving customers away."
At the February budget meeting which approved the return of charges, officials presented a report recommending charges of £1 for the first hour on and off-street, with a £2 two-hour on-street maximum and charges up to £4 in off-street car parks.
Setting up the infrastructure for the system, including the installation of ticket machines, will cost £165,000.
The council said it was keen to hear the views of local residents on the pros and cons of the proposal.
A spokesman said: "By consulting through our Have Your Say webpage and with community councils, we hope to gather as many views as possible from residents, businesses and all users of Angus car parks and on-street car parking about what they feel will be the best, most effective and efficient way of charging for parking.
"We have ideas about how we can achieve this by making our parking charges simple, clear and easy to understand but we want to know what people think."