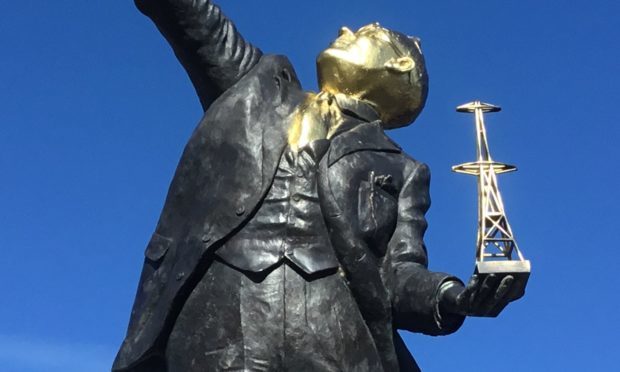 Vandalism to Brechin's Watson Watt statue has been condemned by the group whose dedication delivered the town's first public art statue.
The St Ninian's Square sculpture commemorating Sir Robert Watson Watt was targeted in a paint-spraying spree earlier this week, prompting police to release the description of a youth they want to trace in connection with several vandalism incidents in the heart of the town.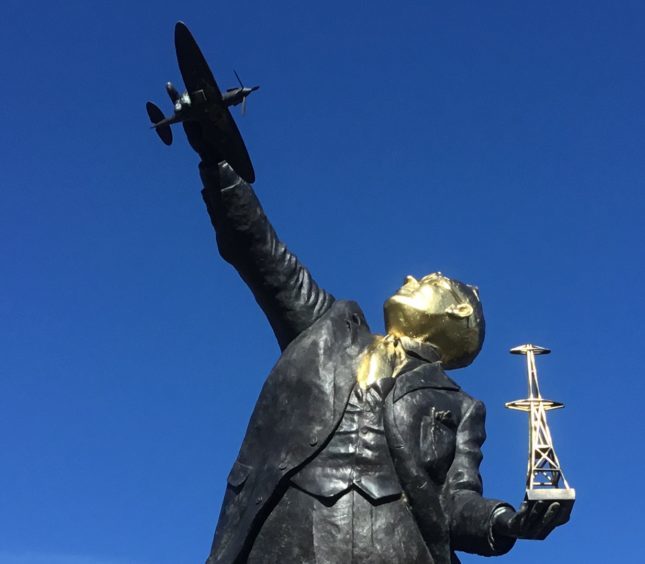 Houses and businesses were also hit but there was been widespread local anger over the defacing of the statue to the scientist son of Brechin who was the pioneer of radar.
The logo BYT – believed to stand for Brechin Young Team – was sprayed in gold on the stone plinth of the statue in the Tuesday attack.
That damage has already been cleaned off by a public spirited local, but a delicate and potentially costly operation will have to be carried out to remove paint the vandal also sprayed on the face of Watson Watt and a radar mast sculpted in his hand by creator Alan Herriot for the statue's 2014 unveiling by the Princess Royal following a public campaign which raised tens of thousands of pounds.
Watson Watt Society secretary Steve Dempsey said the group "deeply regretted" the damage to the statue and plinth.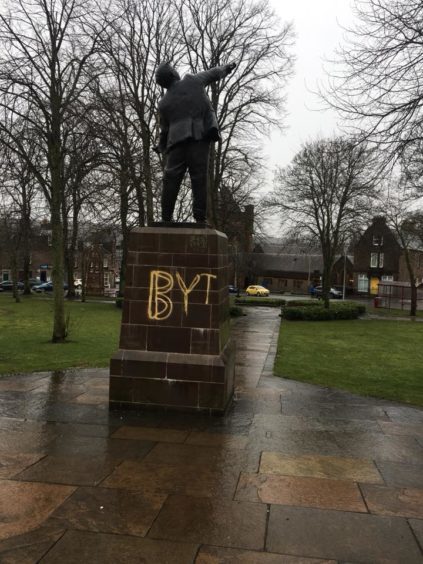 "We very much appreciate the support from a member of the local community who has removed the paint from the plinth," he said.
"However, the society is seeking professional advice on how best to remove the spray paint from the bronze statue.
"The bronze will also have to be repatinated to protect the surface. We will wait until estimates have been received before carrying out any further repairs," added Mr Dempsey.
Costs of the repair may fall to Angus Council, who agreed in 2015 to take responsibility for the maintenance and upkeep of the statue.
Mr Dempsey: "A significant amount of the funds raised to erect the statute came from members of the local community.
"It is a fitting tribute to Brechin's famous son and we hope it can soon be fully restored."
Police said they wanted to trace a 14 to 16 year-old, wearing a red jacket with dark sleeves and carrying a rucksack, in connection with the incident.
The boy was with a group of other youths around a similar age and a witness reported him spraying paint onto a building in Brechin before the gang made off towards the town's High Street.
Last week, Brechin High School sent a letter home to parents after community police sergeant Clark Renilson highlighted recent issues of anti-social behaviour involving groups of youngsters up to 40-strong.