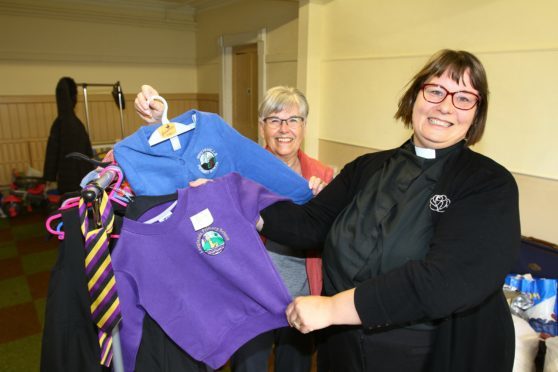 Volunteers are being sought for an innovative community project which gives school uniforms a new lease of life and keeps costs down for parents and guardians.
St Margaret's Church in Forfar runs a pop-up shop during the school holidays, with freshly laundered items issued free of charge to those seeking help with the growing cost of kitting out a child for the new term.
The project was set up after the Rev Maggie Hunt moved to the area and struggled to find a uniform for her daughter.
The demand for the service, now in its fourth year, has grown to the extent that last year 2,000 items were distributed.
Mrs Hunt said: "It has grown organically and started because I couldn't get a logo sweatshirt second hand for my daughter when we moved here.Rev
"I decided to run a simple hand-me-down 'swap shop' for my local primary; now it covers all the schools in Forfar.
"Forfar Academy has partnered with us for the first time this year and word has gone out to the Kirrie area schools too. "
Mrs Hunt explained the pop-up shop is not a faith project but rather is based at the church as they have the space.
She continued: "You can be of any faith or none to help out – even just washing clothes, doing an hour of ironing, welcoming families or offering to check age labels and put a post-it on each item so it can be easily stored in the right box.
"It all makes such a difference.
"Last year we gave away over 2,000 items of clothing so we really do need everyone to help out."
Anyone with items of school uniforms which are too small can hand them in to their local school during the last few weeks of this term.
Volunteers collect the bags on a regular basis, then launder and label everything.
Mrs Hunt continued: "During the first week of the school holidays and again the week before the schools go back you can come in to St Margaret's church halls and pick up as much uniform as you need in your child's new size, completely free of charge for the year ahead.
"Even if you don't give you can still get.
"We have some donations of new clothing too and it all needs to go."
Donations of school uniform items, coats and PE kits can be handed in to the schools by 12 pm on Friday, June 29.
Items can also be handed in to St Margaret's church on West High Street any week day morning or leave bags marked 'pop-up shop' outside the side door.
The 'pop-up' shop will run at the church between 10am and 12pm from July 2 to 6, from August 6 to 10 and on August 13 and 14.
Extra pop-ups may appear during the holidays if enough volunteers come forward, details of which will be posted on the Facebook page www.facebook.com/stmargaretsforfar.
Mrs Hunt concluded: "Please support our uniform swap shop.
"This is organised for you as a way for us to help families in our community.
"At the end of the holidays we create a stock list of what's left and let each school know what we have in our storeroom, so if you need polos/trousers/jumpers mid-year, just ask at the school or church and we will try our best to offer uniform for your child.
"We always need volunteers to launder and label all the uniforms donated, so if you would like to volunteer – please contact the church via our facebook page, website or pop in with a note of your name and contact number."