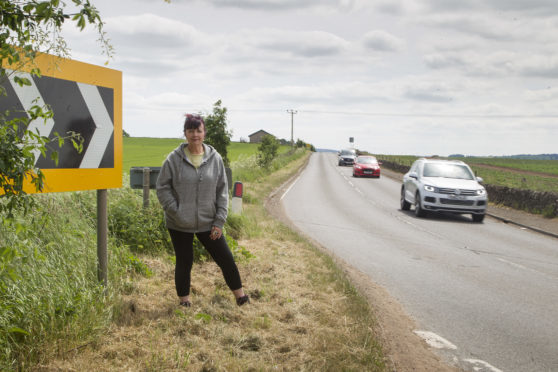 An Angus councillor is urging the public to come forward with suggestions for new paths to ensure her ward does not lose out on government funding.
Councillor Julie Bell, SNP member for Kirriemuir and Dean, has highlighted the benefits to Angus communities through the Cycling, Walking and Safer Streets Fund.
Last month the council's communities committee approved seven active travel projects across various Angus burghs, financed by the fund, but none were in Kirriemuir.
Ms Bell said: "I welcome the Scottish Government investment in roads and paths for more active travel.
"I have been assured these projects generally go around the burghs, although this is the second year in a row Kirriemuir and Dean has received no funding."
The allocation of the funds, totalling £159,000, was queried by councillors at last month's meeting.
Carnoustie and District Independent councillor David Cheape successfully got a proposed pathway in the grounds of Carnoustie House put on hold to allow a wider public consultation to take place.
Montrose and District SNP councillor Bill Duff informed the meeting it seemed those who "made a noise" got things done.
Noting his comments Ms Bell continued: "Currently, it would appear projects are chosen primarily from complaints received by officers.
"In my view, we should be much more participative and empowering communities to make those decisions themselves.
"Looking to the future to the 2019-2020 round of funding, and taking a much more positive approach, I am now seeking ideas from residents in Kirriemuir and Dean which has an incredibly active population."
She is seeking suggestions for infrastructure projects to help improve safety and accessibility for cyclists and walkers of all ages; and ideas to what improvements would make cycling, walking and access in the community a safer option.
She asked: "Where could we improve safety or accessibility for bikes, wheelchairs, prams and buggies to increase the number of people walking or cycling for pleasure, exercise or to get to work?"
She raised the funding possibilities at Kirriemuir Community Council and, with members of Ladies Leisurely Cyclists in Kirriemuir, is confident there is no shortage of ideas.
"I believe the people who know these routes best are those who live near them and who use them regularly.
"I want to hear what you think so I can pass your ideas onto the council for the next round of funding.
"This way we can prioritise initiatives that are truly needed across the whole ward."
Ms Bell encouraged all those in Angus to identify what their community needs. Ideas can be emailed to CllrBell@angus.gov.uk.