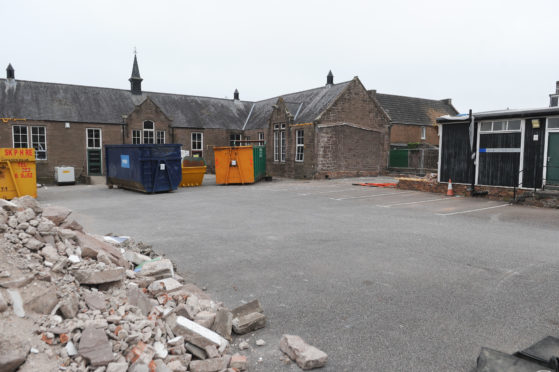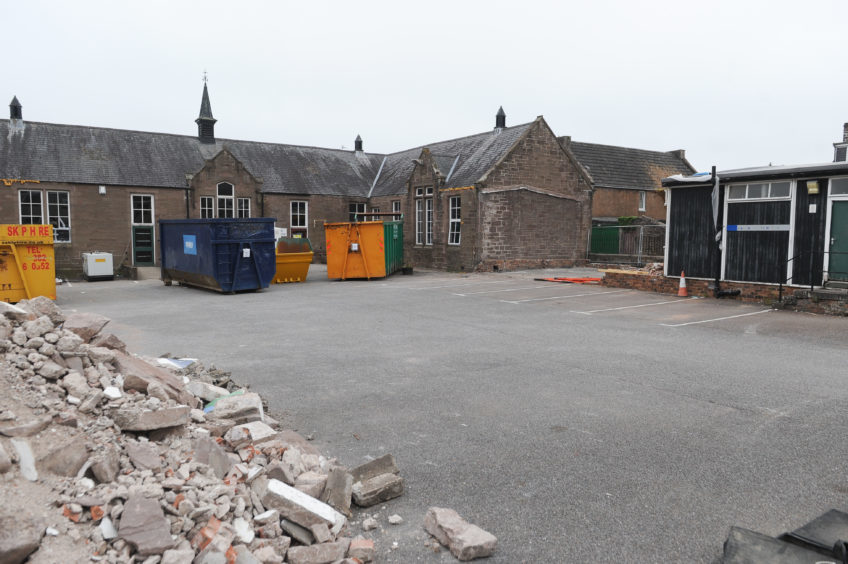 The price of demolishing the historic Damacre Centre in Brechin has rocketed after asbestos was unexpectedly found in the building.
The Damacre Centre closed in early 2016 following the opening of the £26 million community campus in the town despite a petition from 20 groups to keep the building open.
Work started on clearing the site at the start of March and was due to be completed by the end of July.
Councillors were informed last month that the cost of the demolishing the site was £172,293.
However, Angus Council said "additional asbestos" had now been found resulting in extra costs of £82,000 and bringing the total cost to more than £250,000.
The schedule for the work has also been slipped and is now due to be completed in late August or early September.
Andy Wilson, a member of the Damacre Centre residents' committee, said: "This is the latest stage of what's been a shoddy process all the way through.
"It seems to me that the council were desperate to get rid of this building and they've pushed it through planning with not a lot of foresight.
"Damacre was built in the 1800s so there's no surprise there's a lot of asbestos in the building. We've all heard about the asbestos issues in the building. It shouldn't have been a surprise.
"Damacre was my first primary school – there's a lot of memories there for me. It's really sad it's being taken down when I feel it should have been converted into homes. It is one of the town's best buildings."
When it was a primary school, famous sons of Brechin Robert Watson-Watt and David Waterson were educated there. It was latterly used as a community centre.
Some members of the Brechin community bitterly opposed the building being razed due to its attractive appearance and historical importance.
The main building appears to still be largely intact, with some outbuildings being taken down so far.
Residents' committee member Jill Scott also hit out at the latest costs.
Mrs Scott said: "This shows a complete lack of planning, all of which costs the tax payer money.
"I'm at a loss to see how this additional asbestos was not known about and wonder if the demolition would have been proposed if the true costs were known.
"Angus Council has rode roughshod over the thoughts and feelings of many residents in Brechin.
"I don't think this destruction of this much loved building will ever be forgotten or forgiven."
Despite the public opposition, the demolition of the building to erect 10 council homes was passed by Angus councillors in January.
A council spokesman said: "Additional asbestos that we were unaware of has been discovered on site and requires safe removal.
"This has resulted in additional costs of £82,000 and work is now scheduled for completion in late Aug/early September."