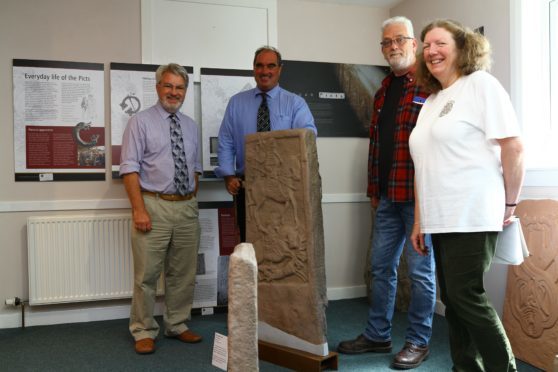 Information panels and items once on display at the Pictavia visitor centre in Brechin have been resurrected in a new display at Aberlemno.
A Pictish room, at the rear of the village hall, now hosts a collection of important artefacts and replica stones.
Members of the Aberlemno village hall committee led a huge community effort to create the exhibition space which was officially opened on Saturday by local historian Norman Atkinson.
Isabelle Davies, committee chairman, said the display was developed by committee members with the support of local people and businesses.
She said: "It has taken a lot of time and effort to get the display ready for public viewing and huge thanks must go to committee members past and present who made this possible.
"The permission of Angus Council in using the material in the display was also freely given."
The £1.2 million Pictavia Visitor Centre near Brechin opened in 1999 as a means to preserve the story of the Picts, but closed 15 years later.
Hall committee member Paul Duncan was instrumental in securing the new home for the displays.
The replica battle stone originally housed at Pictavia is now located in the hall's car park, while the Pictish room accommodates interpretation boards, replica stones and stone carvings provided by Edinburgh-based sculptor Andrew McFetters.
Mr Atkinson, who has been interested in Pictish studies all his life, said: "The closure of Pictavia was a huge disappointment for Pictish fans, it was a great shame.
"I suggested it might be possible to ask for some of the panels and other interpretive material, which wouldn't be of any use to anybody else, and Angus Council very graciously agreed.
"Paul Duncan was the main voice behind this.
"The committee has done a brilliant job arranging it all, they have put in the graft."
"Some good has come out of Pictavia closing, nothing has been lost.
"The great thing is we have a truly Pictish centre at Aberlemno. which was a very important place for the Picts."
"It's win win for the area and is great seeing all that material in the heart of Pict land."
The committee plans to open the Pictish room to the public on a regular basis and by arrangement for group visits.
Further details on opening times can be found on the hall website – www.aberlemno.org