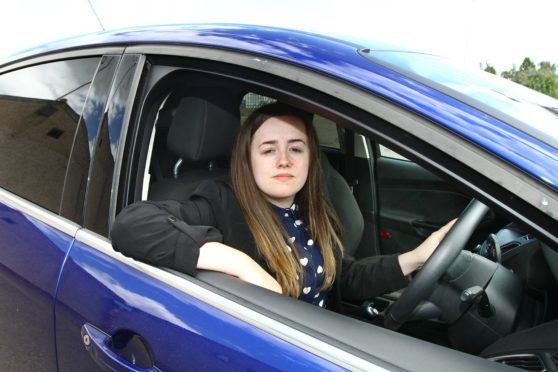 An Arbroath woman has said she was "almost killed" after a trailer broke free of a tractor and careered across a busy dual carriageway.
Diane Kidd, 22, was travelling on the A92 to work in Dundee when the dramatic scene unfolded.
She was in the right-hand lane to let another car out of the slip road when the trailer detached and skidded across the road, hitting the middle barriers.
Ms Kidd was forced to make an emergency stop "whilst going 70mph".
She said: "It was a miracle I didn't hit it and there wasn't a car pile up. I could have been killed.
"I was obviously shaken and in shock. The driver of the tractor then reversed to the other side of the road so it was in front of the trailer to hook it on again and the drvoe away.
"I was so shaken I had to call my dad to drive me the rest of the way to work. I managed to make it to the nearest bus stop and called him. He took me to get a cup of tea with lots of sugar to calm my nerves.
"I'm lucky I was able to stop and that I was paying attention. When the tractor stopped it was only about three car lengths in front of me, so if I had been changing the radio of something like that then I probably wouldn't have stopped in time.
"I'm also lucky that the driver behind me was paying attention and didn't hit the back of my car.
"I'm angry that the tractor driver didn't even check if I was okay. He just reattached the trailer and drove on. Lots of cars were passing me on the left hand side. If I had swerved to avoid the trailer I could have taken a lot of people out."
The incident took place just past the B962 exit to Ardestie at around 8.30am on Tuesday morning.
Ms Kidd commutes from Arbroath to Dundee for her job as a director of bus company Fishers Tours and said she has never encountered such an incident in six years of travelling along the busy road.
She is asking for witnesses of the incident to come forward to help them make a formal complaint against the driver.
A Police Scotland spokeswoman said: "We received a call just after 8.40am reporting a concerns for a vehicle.
"Officers spoke to someone associated with the tractor about the incident.
"If the family would like to make a formal complaint, then they should contact the police with reference '760 of the 17th July' to do so."