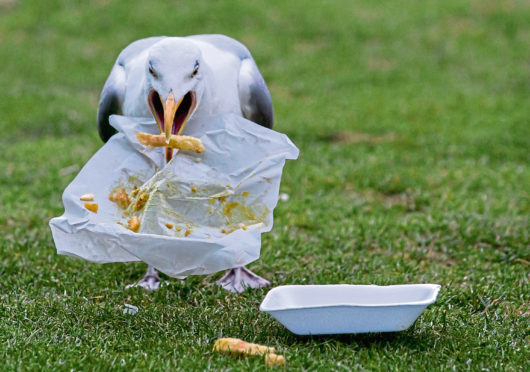 Swifts really are remarkable little summer visitors.
Despite the number of the winged wonders dropping by as much as a 60% in little more than a couple of decades, conservationists' efforts in Angus mean communities like Edzell and Kirrie are still lucky enough to have good populations of birds which, remarkably, remain on the wing for everything apart from rearing their young.
Forfar too has a town centre swift colony and long, calm summer evenings have been ideal to enjoy so-called screaming parties, when flocks gather at dusk to chatter and swoop acrobatically as dusk descends.
Or they would have been, had the swifts' twittering tune not been drowned out by the relentless siren wail of gulls on the rooftops and ridges beside chimney pot nests containing fledgling young.
The inexorable rise of the gull population has affected every Angus community in the same way they have been hit by the sad decline of species such as the swift.
We are, of course, entirely complicit in the spread of these scavengers, whose palate has advanced from the herring after which one strand of the laridae family is named into the much more cosmopolitan tastes of discarded doner kebab or cheese and chips.
The takeaway and throwaway culture has proved a perfect platform for the advance of the gull far beyond its traditional territory, but even there the rubbish pickings remain rich, and in Montrose problems have reached such a height the suggestion of a cull has been flown by one local councillor,
Ice-cream stealing gulls may be all very well for You've Been Framed clips and Steven Seagal intros for people like myself writing about the bravado of birds such as that which regularly nipped in to an Arbroath shop for a packet of crisps.
However, those who reportedly needed medical treatment after being attacked won't have seen the funny side this summer.
Councils are reluctant to consider a cull –although it has been executed in places like Dundee – but I wonder what the response would be if these marauding colonies were not sky rats but ground dwelling, long-tailed vermin which showed the same pugnacious bravado in protection of their young.
It may be time for the tide to turn against this noisy menace.