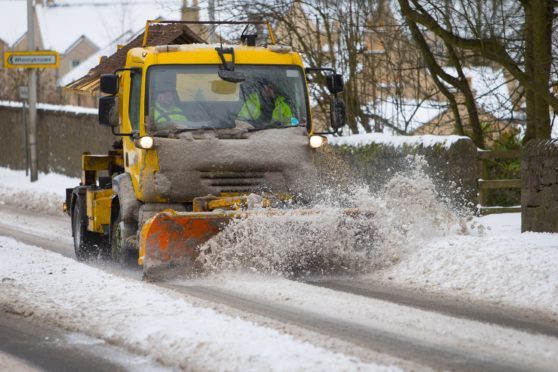 Angus villages will not be left out in the cold over winter street-clearing provision.
In a climbdown over money-saving plans which had led to claims of "two-tier" snow-clearing service for Angus streets, councillors have agreed to spread the local authority's mini-gritter fleet a little wider for the winter ahead.
But communites have been warned, even with the changes, routes to village schools are unlikely to be cleared before 9am.
The decision followed a backlash over proposals which would have seen only Angus burghs receive pavement-clearing provision under a bid to shave more than £100,000 from the council's £2 million-plus winter maintenance budget.
Options including reducing road gritting to fund footway treatment, or reducing the amount of salt spread on roads and pavements were rejected by councillors, with the latter idea being branded unsafe by roads chiefs.
Angus is hoping to recruit snow-clearing volunteers but the original proposal to leave villages untreated has now been labelled "a step too far".
Communities convener, Montrose Independent councillor Mark Salmond, told a special meeting of the full council: "Angus Council is facing unbelievably tough decisions to balance its reduced budget.
"The original proposals were focused on maximum efficiencies and savings but we, as the administration, felt that withdrawing completely from some of our rural villages was a step too far at this time.
"We know we have more pain to come in 2019/20 to meet our ongoing budget challenges, but at least we have longer to work with rural communities to build their own resilience".
Council leader, Arbroath West and Letham Independent David Fairweather said: "We would all love to keep and extend services but that is just not the world any local authority is in right now."
Monifieth and Sidlaws SNP councillor Beth Whiteside said: "I'm glad to see this because I felt the decision as to how cuts were made was inequitable but I think this is still a wasted opportunity.
"If we are meeting the aims of the report we are asked to pit town against town, community against community and in my case, one side of my ward against the other side.
"Statistics can say exactly what you want them to say but they cannot tell you how much snow is going to be in any one place.
"Instead of fighting about who gets the service I think we need a service which is agile and adaptable rather than deciding on what area is going to receive treatment regardless."
Montrose SNP councillor Bill Duff made an ultimately unsuccessful move to keep the burghs-only plan in place, describing the gritting situation as "Hobson's choice" for the authority.
"My argument for that option is about risk and I think it protects more people.
"If we go for the other option we will be spending a lot of time, money and manpower carting these gritters around so on a risk analysis basis I think we are better protecting more people."
What the changes mean
Councillors previously agreed to reduce the mini-tractor gritter fleet from 16 to 10 for the burgh towns,  and four to zero in the villages.
The agreed changes will mean:
Reduced routes in Forfar treated by two mini-tractors; with one mini-tractor moving to Letham to treat limited routes to school and Square, completion probably after 9 am.
Reduced routes in Brechin treated by one mini-tractor; which then moves to Edzell to treat the High Street; and then move Friockheim to treat Gardyne Street from shops, pharmacy to school and Westgate, completion probably after 9am.
Reduced routes in Monifieth treated by one mini-tractor; which then moves to Muirhead/Birkhill treating Coupar Angus Road including retail, pharmacy and Dronley Road for school before moving to Wellbank to treat from shop to school, completion probably after 9 am.
Reduced routes in Montrose treated by two mini-tractors; with one mini-tractor moving to Hillside to treat Main Road and Hospital Road for school and retail; with one mini-tractor moving to Ferryden to treat Burnside Place/West Terrace, Craig Road for school completion probably after 9 am.