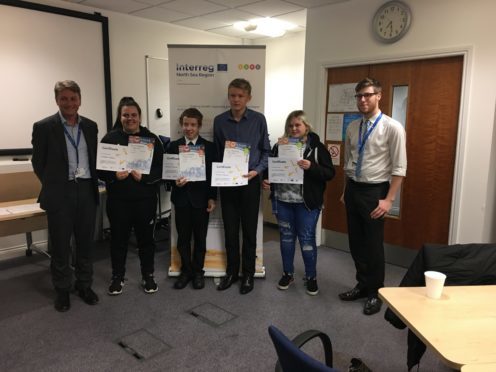 A total of 15 youth-related projects chosen by young people in Angus are to receive a share of a £40,000 funding pot.
Twelve of the 15 will be fully-funded from the Power of Youth award, which was made available by Angus Council as part of its commitment to participatory budgeting and in celebration of the Year of Young People 2018.
The youth-focused fund offered £10,000 for groups in each of the county's locality areas — Arbroath; Brechin and Montrose; Carnoustie, Monifieth and Sidlaw; and Forfar and Kirriemuir.
In all, more than 1,100 young people voted for where the cash should go, and the winners from 35 bids made for the funding were announced by council strategic director (people) Mark Armstrong at an event in Angus House.
The bids received totalled £91,082.57 – more than double the £40,000 available, meaning that not all bids could be accepted.
The young people's votes through the Young Scot website determine the destination of the  grant support and the results were:
Arbroath: Arbroath Children's Learning Partnership (£4250), Skillz Academy (£5000), Police Scotland (You Tube filming project with young people in Arbroath) (£750).
Brechin/Montrose: The Attic Youth Project (£2000), Street Games (£3000), Family Resource Team (£2810), Links Park Community Trust (£1400), YM Montrose (£790).
Carnoustie/Monifieth: HEART of Monifieth; Health & Wellbeing (£5000), Monifieth Duke of Edinburgh Award Group (£5000).
Forfar/Kirriemuir: Forfar and Kirrie Holiday Programmes (£4000), Webster's High School Outdoor Project (£1740), Kirrie Youth Art Group (£1499), DD8 Music DJ training (£2318.57), DD8 Music Mobile Equipment (£443.43)
A Council spokesperson said: "Participatory budgeting is a different way of managing public money.
"It enables people, and in this case young people, to make the call on how public budgets are spent.
"Those involved can play a part in the decisions that directly affect their lives and those of other young people in their communities."
"A trained team of young people (aged 13-17) co-designed the participatory budgeting process for the new Power of Youth scheme.
"Their learning has helped them to assist other young people in the process.
"They all received certificates in recognition of their work and were presented with a Saltire Award in recognition of their voluntary efforts."