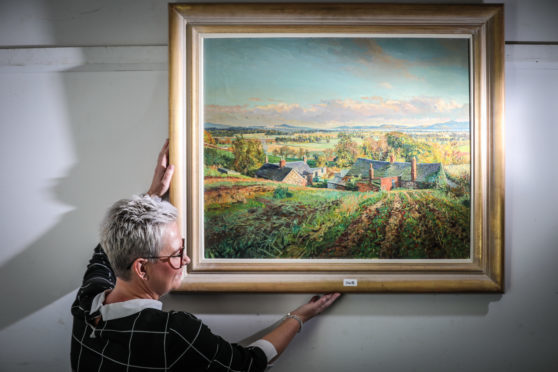 The sale of an original painting by celebrated local artist James McIntosh Patrick is expected to make five figures when it goes up for auction in Angus this week.
The oil, entitled View from Rait, has a guide price of £15,000 to £20,000, and has come from a private collection in Edinburgh.
It is due to go under the hammer in Montrose, with hopes the artist's enduring popularity could help the artwork to the top end of its estimate.
Jonathan Taylor of Taylor's Auctions who are selling the work said: "McIntosh Patrick remains a popular artist, and this is a good example of his work. The sale price may well end up at the higher end of the guide price.
"Although we sell a lot of items internationally, McIntosh Patrick paintings usually sell to domestic buyers, so it might not go too far."
Born in Dundee in 1907, McIntosh Patrick studied painting at the Glasgow School of Art, and began his career by making etchings, which sold steadily, even through the Great Depression, but latterly began working in oils and watercolours.
He would become well-known for his landscape paintings of Angus and Dundee, and examples of his work can be found in collections across the world including the Tate, and the national galleries of South Africa and South Australia.
His meticulously detailed paintings became highly sought after, and his 90th birthday was marked by an exhibition at the Scottish National Gallery of Modern Art and he was made an OBE the same year. He died in 1988.
Mr Taylor also revealed that around 100 lots at the weekend auction will be for Aberdeen charity Archway Respite Care.
"We are selling a number of items that were bequeathed to the charity, which could raise around £8,000.
"This will be commission-free to the organisation, so all of the money will go to the charity.
"This is something that we do fairly frequently for charities who may receive an item that might not make its true value in a charity shop, but will do when sold at auction, so the charity makes more money that way.
"There are some particularly attractive items in the lots being sold Archway Respite Care, so we hope they will do well for a good cause."
The sale takes place takes place on Saturday at Taylors Auctions in Montrose.