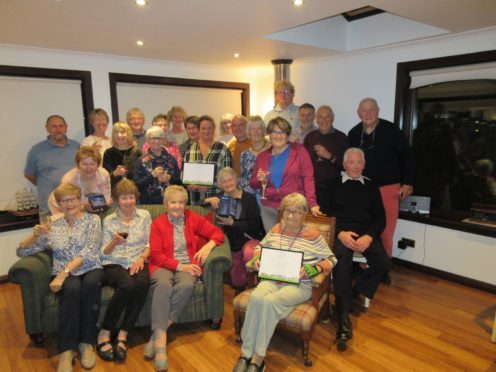 Community gardeners in Perth and East Haven have weeded out stiff competition to pick up top accolades in the Royal Horticultural Society's annual Britain in Bloom awards.
At an awards ceremony in Dublin, the Fair City won Gold medal, came top of the large town category and won the discretionary parks and green spaces award for the quality of Riverside Park.
Judges were impressed with the town's passion and commitment, with standout features including the railway station, recycling walk and heather garden.
Tom Lowdon of Perth was also named community champion and Pert is in the running for Champion of Champions next year.
East Haven, on the Angus coast, had not set its sights too high for the competition so were "bursting with pride" when they picked up the Gold Award for Britain's best coastal village.
It won the category thanks to its conservation efforts at a Site of Special Scientific Interest (SSSI) coastal habitat.
The community has reduced plastic use and beach litter and helped to protect the rare greater yellow rattle plant and the UK's smallest butterfly species, the small blue butterfly.
Flying out for the ceremony were Wendy Murray, Nicola Keen, Alice Noble, Anne Bancroft and Irene Donaldson.
There were further celebrations when Wendy was awarded a RHS community champion discretionary award.
The entire East Haven community joined together on Saturday evening to celebrate their achievements.
Wendy said: "The achievement of East Haven should give all communities hope in that it is possible to make a difference to the place you live if there is a bit of willingness and community spirit amongst neighbours and friends."
East Haven was the smallest coastal village in the category which included populations of up to 12,000.
They were judged alongside Filey, Lytham St Annes, Fishguard & Goodwick, Hunstanton and St Clement on Jersey.
Wendy continued: "With a population of only 79 adults and a handful of children, East Haven was competing against places with many more resources and volunteers.
"However, East Haven has a strong record of working with organisations and supporters across Angus and it really was an Angus wide effort which saw East Haven achieve such success.
"We are bursting with pride and cannot believe we have achieved this in five years."
The entire community rallied to the call to improve its environment when it was included in a national cycle route which resulted in a massive increase in visitors to the area.
The residents took over running the public toilets in a community partnership with Angus Council in 2015, and has worked tirelessly to protect the biodiversity of the area.
They collaborated with the Beechgrove Garden for the creation of a garden at the entrance to the village, and have worked closely with local school children to protect the local wildlife.
Wendy added: "We couldn't do this on our own, we have a strong network of organisations and work closely with Angus Council."
She was "humbled" to receive the community champion discretionary award on the recommendation of the judges for going above and beyond and for providing a strong leadership and promoting the ethos of the RHS Britain in Bloom campaign.
This year's competitors were recognised for their work in what the judges have declared the toughest year on record with communities nationwide fighting to keep blooms alive.
Finalists are judged on their horticultural achievement, community participation and environmental responsibility with the RHS judges visiting communities from the end of July after months of hot and dry weather.
Darren Share, Chair of the RHS Britain in Bloom judges, said: "This year's finalists faced the most challenging conditions the competition has ever seen with much of the country under snow and ice at the start of spring followed by the joint-hottest summer on record.
"That so many groups have walked away with top medals is remarkable and a reflection of communities' hard work, ingenuity and horticultural know-how."
Perth in Bloom chairman, John Summers said: "We are absolutely overwhelmed by these fantastic successes.
"These awards represent thoroughly well-deserved recognition for all the work done by our amazing volunteers and I couldn't be more proud of them."
"We are very honoured indeed to have been nominated for the Champion of Champions Award next year.
"This is the highest honour awarded by Britain in Bloom, but it also has the very highest judging standards.
"That means a lot of work for us, but we know we are up for the challenge."