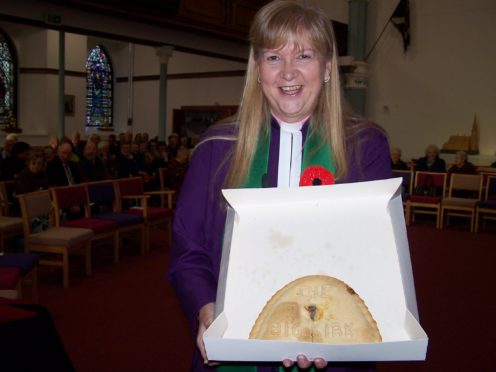 An Angus congregation is offering some divine intervention in the growing support for the recently-maligned Forfar bridie.
As part of its ongoing work to reach out to the local community, members of the East and Old congregation are standing up for their town and its culinary pride and joy.
In response to recent criticism from Angus councillor Bill Duff, who took a bite out of the bridie's world-wide reputation by branding it a "low quality processed meat product", the Rev Barbara Ann Sweetin has launched a campaign to support the pasty.
She has co-operated with McLaren Bakers and is encouraging her congregation and Forfar folk to purchase a 'Big Kirk Bridie'.
This is a special large bridie, baked with 'The Big Kirk' lettering on the crust.
They can be enjoyed at home or can be vacuum-packed to send to friends and family especially towards Christmas.
Church members hope the unique batch will help boost sales in the town and help fund-raising for the church.
Ms Sweetin said: "If some people have not had a bridie for a while we hope this will re-kindle their taste for the fantastic flavour of the Forfar bridie.
"This is just a fun thing for the church to be involved in but we are also standing up for our town and its bridies – the Saturday bridie is still very much part of Forfar tradition.
"We have already got orders from three people in Glasgow who know me and I have told all my family to expect a bridie in their stocking fillers this year.
"We buy bridies as a church for the many events we put on and share the business between McLarens and Saddlers."
Ms Sweetin explained the bridie campaign was just another area of the church's work in the community.
Among the projects they are working on is the provision of public transport for those living in the Gowanbank area and many members have signed the petition against the recently introduced parking charges in Angus.
She added: "We are aiming to have a member at every council meeting starting in the new year so we can be on top of what is going on in our community and support it the best we can."
Forfarians of all ages rose to the defence of the bridie after councillor Duff, SNP member for Montrose and district, failed to mince his words when he took to social media to criticise an eleventh-hour plan from the local authority for a £15 million Scottish food culture hub as part of the Tay Cities Deal.
The Forfar bridie was to be among the goods showcased in the centre.
However, Mr Duff stated: "I think if we are going to celebrate our food and drink, what this supposed centre needs to focus on is high end smoked salmon and the Arbroath smokie,
"I think a bridie is stretching it a bit.
"I don't think processed meats, pies or bridies is what we should be pitching to tourists."