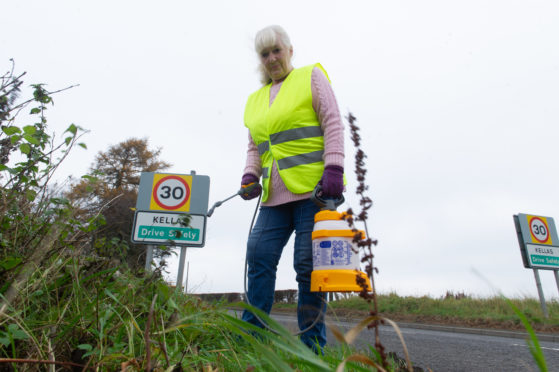 A villager plans to bill Angus Council in a furious road safety row after claiming she has spent 20 years doing its job.
Marilyn Mauran said she regularly goes out with a strimmer and weed killer to stop vegetation from concealing 30mph speed limit signs in Kellas.
She said the signs would be obscured if she did not cut the vegetation down regularly and called for Angus Council to cement the ground around the signposts.
Angus Council chief executive Margo Williamson said it "would not wish to set a precedent" by putting down cement given "limited budgets at this time".
She said the council would adjust its strimming schedule to ensure visibility of signs was not affected by vegetation.
Mrs Mauran – who also raised concerns over people speeding through Kellas – said she will now invoice the council if she is forced to get the weed killer out again in future.
"The vegetation has never been strimmed and is allowed to grow under and around the two poles of the 30mph sign," she said.
"This obstructs my view when trying to come out of my drive and due to the speed of motorists it is too dangerous to come out too far onto the road to get a proper view.
"Angus Council have never strimmed this vegetation since the signs were erected some 21/22 years ago when the 30mph speed limit was put in place.
"They come and cut the verges and leave the area round the poles because the machine cannot get in there.
"It does not get high enough to actually cover the signs saying 30mph as I have either cut it myself or sprayed it with weed killer before it reaches that height.
"Surely it would make sense to concrete over the ground under the signs once and for all – this would be cheaper in the long run as they would not have to send someone to cut it twice a year.
"I still have to do it in between as the weeds grow very quickly. I will continue to cut the verge and spray it and send them the invoice.
"I don't expect to be paid but maybe I could take it to the small claims court."
---
---
Mrs Mauran said she could not blame Angus Council for the "utter lack of respect and stupidity" being shown by some drivers.
She said the main culprits going through the village at "dangerous speeds" are van drivers "who seem to forget the company they work for is displayed on the van".
She also raised concerns that 30mph markings on the road have worn away which would encourage motorists to slow down by advising them they were entering a 30mph zone.
The council said it no longer provides these markings and it was agreed a number of years ago that red panels painted at village gateways would not be renewed when worn.
A council spokesperson said: "We would like to thank the resident for raising their concerns.
"We will add this onto our strimming schedule to ensure that the visibility of the signs is not encroached by vegetation.
"Unfortunately, due to our limited budget, we are not able to install concrete at this time."