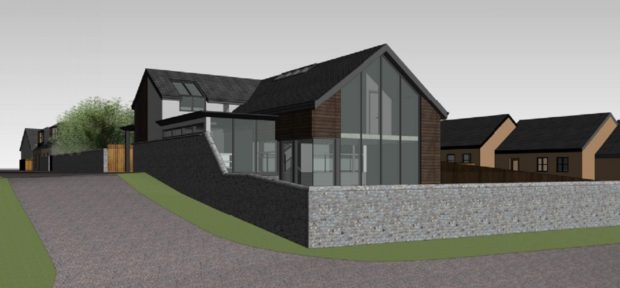 A dream house in a "perfect" Carnoustie location has cleared the planning process, at the third time of asking.
Neighbours had objected to the proposals to extend and alter the Seabrae property to maximise its uninterrupted views off the coast of the town.
However, Angus development standards councillors voted to follow an official recommendation to approve the plan to transform the existing two-bedroomed single-storey bungalow.
The seafront house sits on the unmade street running between Tayside Street and the foreshore between Westhaven and Carnoustie.
Previous planning applications were withdrawn earlier this year.
The latest plan attracted no objections from local authority departments or the town's community council.
However, a dozen representations were received from 11 householders, raising issues including loss of privacy, overshadowing and access.
Architect Roger Brinton said: "This is our third design for it, they have progressively got smaller and this is the last of them.
"There are no windows that affect anyone's privacy and we have kept the ridge height the same as it currently is.
"It is a benign extension of this property."
The approval recommendation said: "The properties located closest to the foreshore in Carnoustie are varied in size and type and increasingly have been significantly altered to reorient them to a south facing outlook.
"In terms of impacts on the character and appearance of the existing dwelling, the extension would be transformational, however there is no significant merit in the original dwelling and its substantive alteration would therefore positively impact on the wider area."
Carnoustie Independent councillor David Cheape lodged an amendment to refuse the application on the grounds that the proposal breached council policy and would affect the amenity of the area.
"There is a real community feel to this part of Carnoustie, I know it well and there is almost a hamlet feel to it," he said.
"It is quite unique, and without doubt a stunning location."
He added: "I'm uncomfortable about the extent of the development of this plot, amenity loss and the significant change planned for this building."
Brechin and Edzell Independent member Bob Myles said: "If we are going to stop every new design because it is different we're never going to get anywhere.
"I don't have any problem with it."
Montrose SNP councillor Bill Duff added: "I think this looks like an interesting design, a very attractive house with a fantastic view.
"I think we should embrace that and the impact on the neighbours is pretty minimal."