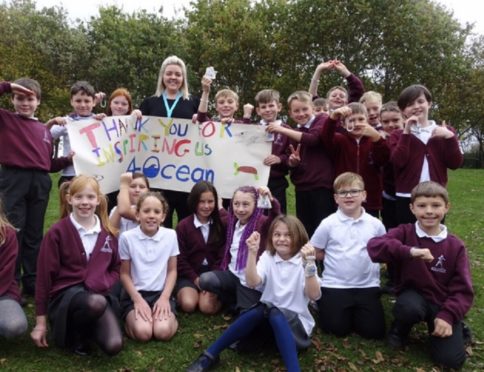 Scottish primary pupils have forged a friendship with far-away pals on the shared mission of tackling the problem of plastics in the world's oceans.
Inspired by a visit from Courier Country marine biologist and researcher Janie Morton, youngsters from the Eco Club at Kirriemuir's Northmuir school in Angus have set their 2019 sights on strengthening a link with the Indonesian province of West Papua and encouraging people closer to home to do their bit to protect the global marine environment.
Janie said: "As a marine biologist, I first spoke at Northmuir primary during the summer after returning from a year away working on marine conservation projects in West Papua.
"Out there the issue of plastic pollution is seriously threatening the lives of people who completely depend on the ocean for food and survival.
"I spent much of my time working with the brilliant charity Child Aid Papua, educating children and communities on marine conservation and the important ways they can take care of their home.
"I brought this message back with me to the children at Northmuir, highlighting how what we do over here in this country can affect the children in Papua and across the world as we are all connected by the ocean."
The important message was taken further by Northmuir P5 teacher Nikki Paterson, who chose marine life as a class subject.
"The children were completely shocked at what plastic is doing to our oceans and became enthusiastic about wanting to make a difference," she said.
"The class made 'No Littering' posters around school and did a lot of litter picks. Environmental company 4Ocean, which cleans plastic out the ocean and converts it into bracelets donated bracelets to the P5 class which the children were so excited about."
Mrs Paterson added: "The children of the P5 class made postcards for the charity Child Aid Papua, asking them questions on their home, the ocean and school life.
"The idea is for our children to create friendships and understanding of how life can be across the other side of the world, and how their help for the environment here is just as important for them as it is for the children in Papua."
Janie said the links already forged and the awareness of the issue is providing motivation for the Kirrie kids to continue their work into 2019.
Pupils produced Christmas cards with environmental messages to distribute to local businesses and Janie said the children will continue their drive to protect the planet in the months ahead.
"They are hoping to highlight the free national campaign called Refill, which aims to reduce the number of plastic bottles being bought and instead encourages people to use their own by making it easier for people to refill them.
"Currently the majority of Refill stations are in England with only a few as far north as Edinburgh. I would love for Angus and Tayside to show they are committed to being environmentally aware and encourage people to get in touch with me to sign up."