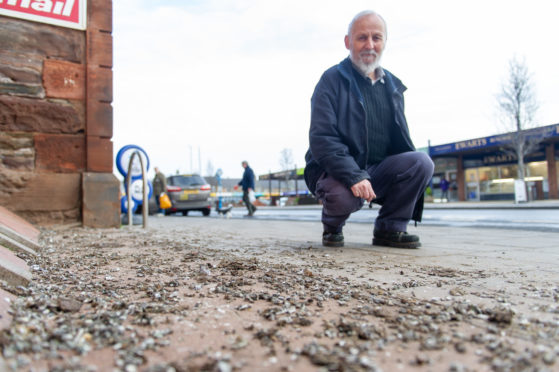 Urgent calls have been made for Angus Council to clear a pavement splattered with pigeon droppings following the death of two patients in a Glasgow hospital after contracting a fungal infection linked to bird mess.
Business owners and residents in Monifieth's High Street have repeatedly contacted the council to ask them to clear the pavement outside a sheltered housing complex run by Caledonia Housing Association.
Taxi drivers regularly clean their floor mats and seats of droppings carried into their cabs at the taxi rank, whilst a bakery owner is constantly cleaning the floor of her shop.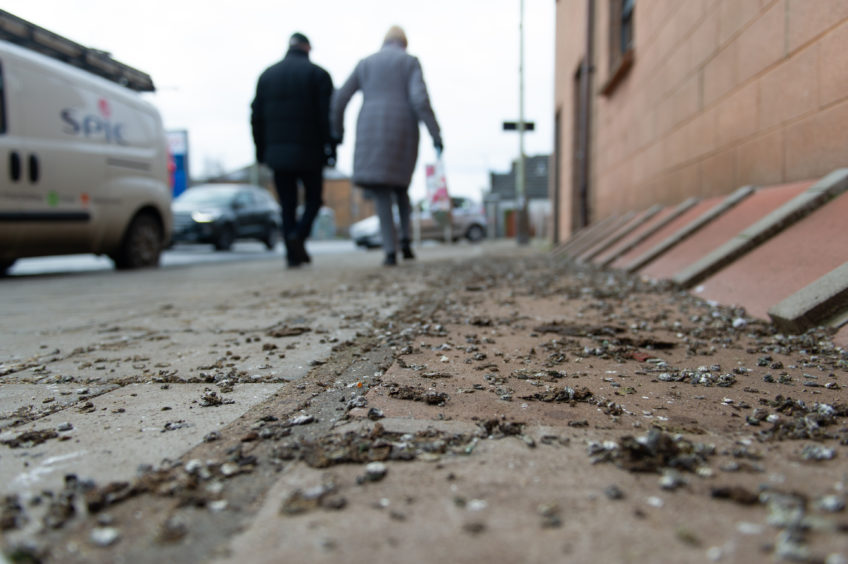 Taxi-driver John Crossan, 56, of Monifieth, said drivers were constantly phoning Angus Council to ask for the pavement to be cleared.
He said: "It has not been cleared since the beginning of the year.
"The pigeons sit on the gutters. It's not so much the clearing up, they need to get to the root of the problem.
"A council worker uses a mechanical sweeper but the brushes will throw the fungal particles into the air, which is then breathed in.
"School children from the local primary school walk through the droppings, which goes on their shoes. Others come along on their scooters and go through it; particles are on the wheels and taken into their homes."
Alex Marshall, 69, a taxi driver in the area for 20 years, is constantly cleaning his cab.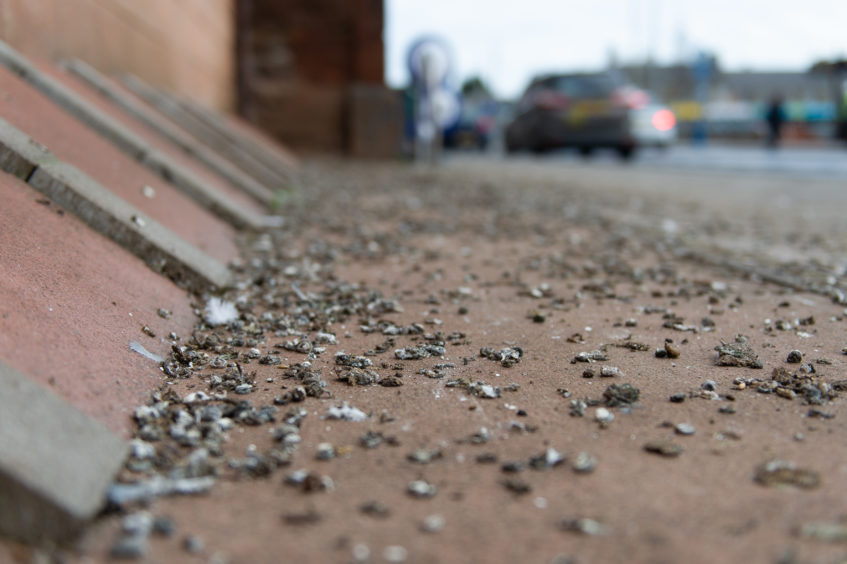 He said: "It has been like this for nearly three years. There is a daily build up. Customers bring it in on their shoes, if children get in the cab they run along the seats which get covered in mess which then has to be scrubbed off.
"It is a real health issue."
Sheila Robb, owner of JM Bakery which looks onto the taxi rank, raised the issue with the council in November but has heard nothing back.
She said: "I've been here 10 years but it is getting worse.
"Customers bring it in on their shoes, it is a health and safety issue as we prepare food on the premises and are constantly cleaning it up."
Nearby resident Cath Gardiner, 74, said she has constantly raised the issue with Angus Council and the housing association in an attempt to get the pavement cleared.
She said: "We have lived here for three years and it's disgusting.
"The council rarely clean it up, nobody will take responsibility for permanently sorting out this situation.
An Angus Council spokesman said: "Responsibility for this lies with the property owner and we are in discussion with them to get this matter resolved.
"Meantime, Angus Council will arrange for the pavement to be cleaned."
A spokesperson for Caledonia Housing Association said: "We are aware of the ongoing situation with the issue of excessive pigeon excrement.
"We addressed this issue 18 months ago with installation of spikes and a clean-up.
"We are currently working with Angus Council and contractors to rectify the situation."