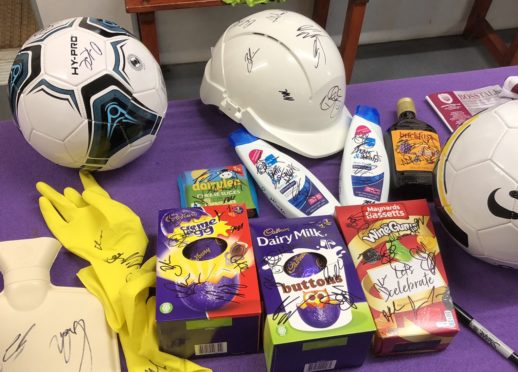 It's perhaps the most bizarre "cheese-and-wine dinner for two" to have gone under the hammer.
Signed bottles of Buckfast and Dairylea slices are among the wacky auction items which are helping raise as much as £500 per game for Arbroath FC.
Is there a big market for autographed dairylea slices? I didn't even see them the first time ?

— Graham Smith (@smithy1893) February 24, 2019
The club's goalkeeping coach Robert Douglas showed off the latest treasure trove on Twitter which sparked a flurry of gags on social media.
Courier Sport columnist Douglas joined in the fun as he revealed the packed table of items which were bid on by fans after Saturday's match against Airdrie at Gayfield.
The haul included autographed rubber gloves, Easter eggs, wine gums and shampoo.
"I'd go hard hat and Buckfast – safe drinking," he said.
The former Celtic and Scotland goalkeeper also joked that there was a "waiting list" for autographed Dairylea slices.
Football, hard hat or Bucky bottle. How are you supposed to choose!? Ha ha.

— Sandy Power (@sandypower89) February 24, 2019
Club director Brian Cargill buys most of the items from a local store and gets the Lichties stars to sign them before they are flogged in the hospitality suite at full-time.
Mr Cargill said it was a bit of fun to raise cash and something which isn't taken too seriously.
Everyone bidding takes the wacky auction in the right spirit and they always dig deep to support the club which is currently top of League One.
The hot water bottle has become one of the most popular items on matchdays and can often fetch close to £100.
Arbroath East and Lunan Conservative councillor Derek Wann said: "It's all about fun and community at Arbroath FC – any way to raise funds and have a laugh at the same time is great."
Rival Montrose fan Barry Fordyce also played it for laughs when he said: "Surely FIFA should be investigating this under the financial fair play rules?
"The Lichties are clearly trying to find a way around the FFP spending regulation through the sale of cheese slices and rubber gloves.
"Only relegation to League Two would be an appropriate punishment in the circumstances!"