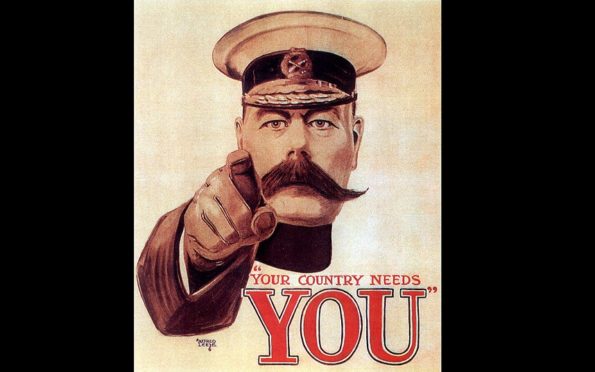 To paraphrase Field Marshal Horatio Herbert Kitchener: Your County Needs You.
There's a good fight to be fought in Angus, and while it may not lead to the famous finger-pointing posters popping up on every local lamppost, we must get the message out there.
Make love, not war.
The plea for passion is prompted by the unsettling news that new district arrivals dropped below 1,000 for the first time last year.
Just 965 additions to Angus families represented a near 10% birth rate dip from 2017, putting the area behind the Scottish average and all of its neighbours.
There's concern the National Records of Scotland data might suggest the district is heading for a "baby bust", with factors including couples putting off having children until later on in life leading to quiet times in local maternity units.
If the trend continues, one worry is the following generations will be even smaller in number to look after an already ageing demographic.
We certainly can't rely on the national football team to set up the delivery room boom which has followed the rampant success of the Three Lions in the likes of the World Cup and Euros, where goals on the pitch have been followed by prolific scoring off it.
And the resultant population spike nine months down the line.
That said, the seemingly unstoppable charge of Dick Campbell's Lichties to league glory might help make the lives of the Arbroath matty nurses a little busier in early 2020.
Fear not, an answer may lie in another study which may have slipped your notice – primarily since it was a little, er, racy for this family newspaper.
The car leasing company expose timed to raise temperatures around Valentine's Day laid bare the habits of Britain's daring drivers, telling us folk have never been more keen to get amorous in their Astra or fruity in a Fiesta.
I'd always wondered why some manufacturers offered 'ambient' interior lighting but perhaps it's aimed at helping create the right in-car atmosphere.
Whatever motoring mood enhancers tickle you, we've all the ingredients to stop this population problem in its tracks with virtually empty car parks across Angus and revved-up Romeos behind the wheel.
As long as it's a case of pay but not too much display then it could be a win-win all round.