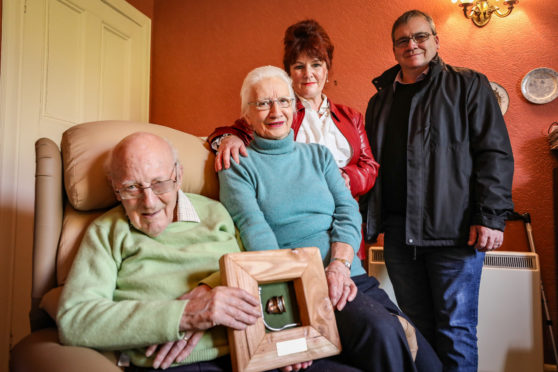 Tayside war heroes who made the ultimate sacrifice during the last major bombing raid on Berlin have been remembered in Germany.
Flight Lieutenant Ronald Jamieson, 20, from Kirriemuir and Sergeant James Inglis Scott, 21, from Dundee were among the seven crew of 625 Squadron's Lancaster ED317 which never came home.
The aircraft took off from RAF Kelstern in Lincolnshire on a bombing raid to Berlin on March 24, 1944 which became known to bomber command as the 'Night of the Strong Winds'.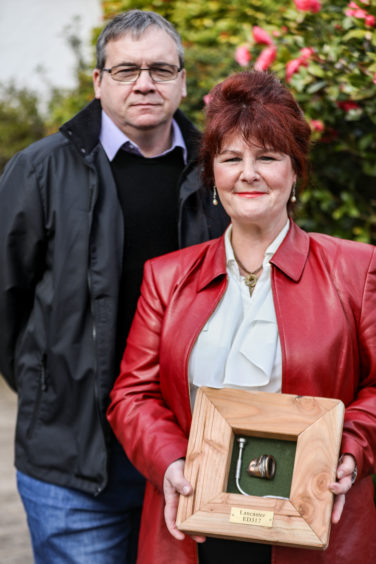 The operation involved 811 aircraft but 72 were lost and 220 aircrew were killed when a powerful wind from the north carried the bombers south at every stage of the flight.
Mr Jamieson – who was a relative of Peter Pan author JM Barrie – was the pilot of Lancaster ED317 when the aircraft was shot down by ace Nazi night fighter pilot Günther Rogge.
It crashed near Nägelstedt after coming under heavy attack just before midnight.
A cairn with a memorial plaque was put in place at the site by Rene Schutz, who searches for lost soldiers killed in war, and his friends in memory of "the courageous young men who made the ultimate sacrifice".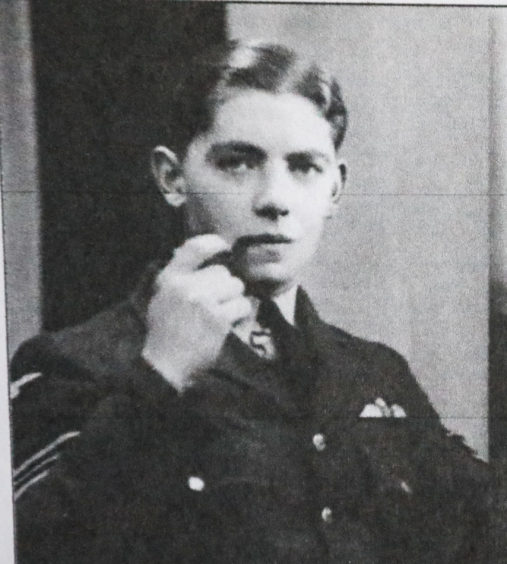 The German citizens sought the crew's relatives and Mr Jamieson's cousin Harry, 90, from Kirriemuir, was invited to the inaugural ceremony at the crash site to mark 75 years to the day since the tragedy.
He was unable to attend the ceremony and his niece Elizabeth Baillie (nee Jamieson) and her husband Mark stepped in and took his place to represent the family.
Mrs Baillie said it was an overwhelming experience and she was presented with pieces of the stricken plane which had been recovered from the crash site 75 years ago.
She said: "Ronald Jamieson's grandmother was Sir JM Barrie's first cousin.
"We feel extremely honoured and grateful to all those responsible for such a generous and thoughtful gesture.
"Via a friend, we were put in touch with The Royal British Legion Scotland in Edinburgh and we thank them for their support with this trip.
"The ceremony itself was so very moving.
"We were so proud to be representing the Jamieson family.
"To have had television, radio and newspaper coverage, along with a solo piper and trumpeter was just overwhelming and we were presented with actual pieces of the plane.
"It is vital to recognise the ultimate sacrifices individuals made to ensure references and links for future generations."
Mrs Baillie said she had always wanted to visit the place where Mr Jamieson died and thanked "all those who made that real".
She added the couple also got the chance to meet eye-witnesses of the crash at the scene of the tragedy.
"This was indeed remarkable and so very moving," she said.
Mr Jamieson and Mr Scott were buried in Germany following the tragedy.
Mr Jamieson's older brother John was also a pilot who was killed aged 19 in 1941 when his plane was shot down in Holland.