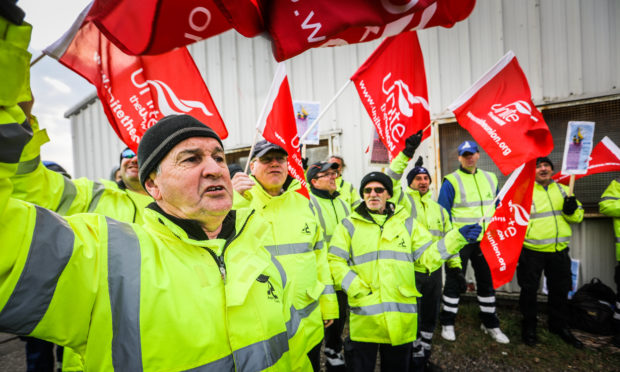 Angus Council has taken measures to compensate householders in Angus who have paid extra to have their green garden waste bins emptied.
They will receive a free one month extension to their current subscription during strike action by Unite members of the council's refuse collection staff which has significantly impacted on bin collections, including the garden waste service.
Communities convener councillor Mark Salmond said: "We fully appreciate the disruption and inconvenience created by the ongoing strike by members of Unite.
"It is a situation we worked hard to avoid and we remain committed to ongoing discussions to try to bring this dispute to as swift a conclusion as possible."
Mr Salmond was "acutely aware" many people who paid for their garden waste to be collected are not currently receiving those collections.
He continued: "While they were advised on subscription there will be no refunds for missed collections, these are exceptional circumstances – a union strike that coincides exactly with changes to shift patterns and a time of year when demand for garden waste collections increases.
"All of the approximate 20,000 households signed up to the garden waste collection service will receive an additional month to their existing subscription.
"We cannot be certain how long this strike action will last – that is a matter for Unite and its members.
"But we will continue to monitor the impact on the service and ensure those who have paid for the service are not financially disadvantaged, while seeking solutions to minimise disruption to the overall refuse collection service."
Angus Council's seven recycling centres continue to operate as normal, with the addition of general waste skips at Brechin, Carnoustie, Kirriemuir and Monifieth.
Garden waste is also accepted at all recycling centres.
Mr Salmond continued: "We know the current situation is far from ideal and fully appreciate the public's concern.
"All our staff are working extremely hard to minimise the inconvenience to our communities and to provide reliable information and accurate advice where possible."
The decision provoked anger from residents online who demanded they should also be compensated for the lack of roadside collections including food waste which hasn't been picked up in some areas since industrial action started.