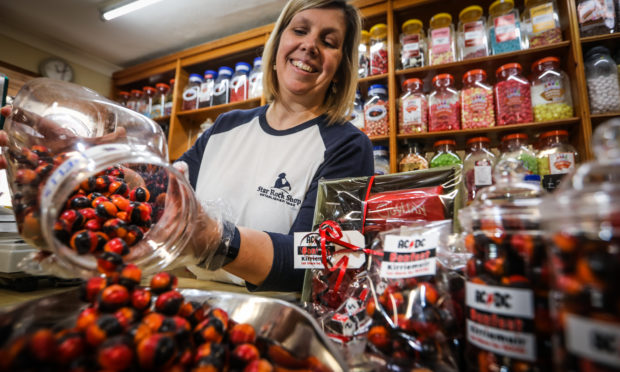 Scotland's oldest sweet shop has created a new treat to celebrate Bon Scott's greatest hour.
Star Rock owner Liz Crossley-Davies has cooked up Hell Balls to mark the 40th anniversary of the AC/DC album Highway to Hell.
The Kirriemuir shop will be selling the red, orange and black sweets during Bonfest weekend on May 3-5 which is the annual celebration of the town's favourite rock son.
"They are called Hell Balls," said Liz.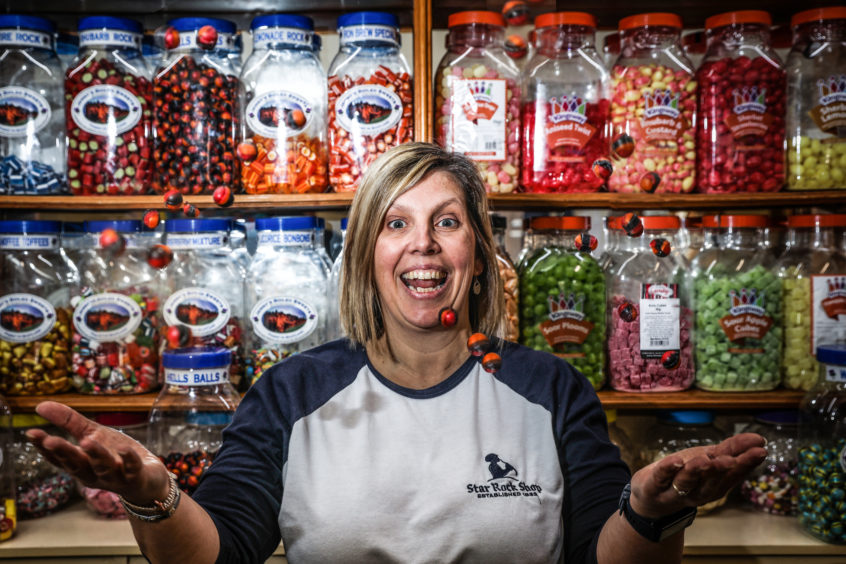 "To represent 'hell' I wanted the colour of flames – so they are red, orange and black.
"And for such a strong name and image there needed to be a unique but strong bold flavour – so they are sour blackcurrant."
Liz also put out a request from locals and AC/DC fans for suggestions to name a Bonfest ice cream but was overwhelmed with replies.
She has now decided to tweak a few of the existing flavours and then entitle carefully chosen ones with quirky plays on AC/DC album names and songs.
AC/DC fans from across the globe are setting their sights on the Angus town for the 2019 Bonfest which is a huge event for Kirriemuir.
Liz said: "In 2018 during the festival, we had visitors in the shop from Peru, Australia, Canada, mainland and Eastern Europe and a great many return every year.
"To have an anniversary to celebrate ensures we can distinguish this year for them and us, an excuse to focus on just one piece in an amazing catalogue of work.
"There are some songs and albums that no matter your age or music taste everyone knows, and Highway to Hell is one of them.
"Many wouldn't know the song comes from an album of the same name, but everyone knows the tune and chorus.
"And that's what made an artist like Bon Scott special – to create music that is recognisable, crosses all walks of life, and lasts."
Liz said the shop fills with personalities from across the world during Bonfest who are eager to find out as much as they can about where he was raised.
"I'm probably one of those mainstream music people who didn't realise they were a fan until I started consciously looking into the AC/DC back catalogue and then discovered they were the background songs of my childhood," she said.
"These days 'Thunderstruck' is one of my all time favourite songs.
"It's got such a powerful intro and the best I have heard it sung was in an overflowing pub in Galway by a group where the guitarist took over the vocals for this one song only and the sardine packed wooden floor bounced from the first note.  "This year's Bonfest in Kirriemuir will be just as memorable!"
The Star Rock Shop was established in 1833 by David Ferguson.
Originally a mason from Brechin, he changed direction, due to an accident which impaired his eyesight, and created the sweet 'Star Rock' in his kitchen.