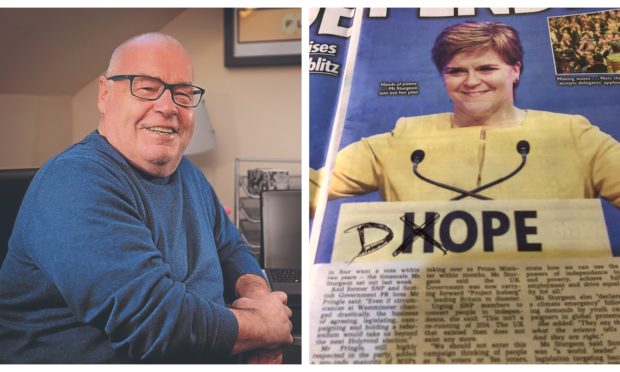 A political row has broken out on Angus Council after the local authority's leader tweeted an image of the First Minister which had been doctored to read 'dope' instead of 'hope.'
Shortly after the image was tweeted by Arbroath West and Letham councillor David Fairweather, it was retweeted by the council's convener of children and learning, Arbroath East and Lunan Conservative councillor Derek Wann, sparking an outraged reaction from opposition members.
The furore follows a presentation by young people to the council's children and learning committee about online bullying, and the launch of a joint anti-bullying campaign between the local authority, children's charity NSPCC and respectme last week.
— David Fairweather (@CllrFairweather) April 29, 2019
The campaign, called 'The Online Bullying Support Campaign. Angus, think before you type' was launched in Montrose, and aims to raise awareness of issues such as receiving abusive messages.
Leader of the SNP group at the local authority, Councillor Lynne Devine described the incident as "shocking".
She said: "After such an excellent presentation by young people to committee members about bullying, and the effects that name calling and making people feel bad can have on individuals, it is hugely disappointing that Councillor Fairweather, as leader of a local authority, has chosen to do this.
"It is also very sad that Councillor Wann chose to retweet the image.
"There is no room for this kind of behaviour, especially when politicians are harassed constantly online."
Responding to the criticism, Councillor Fairweather described it as "faux outrage from the SNP"  and added "it was a light hearted moment."
"However, on reflection, I apologise if I have upset anyone."
Councillor Wann declined to comment.