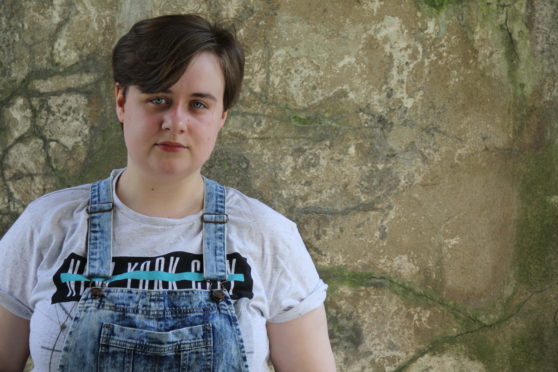 The rescue of thousands of Jewish children from SS officers during the build-up to the start of the second world war and her grandfather's role in liberating a concentration camp have provided the inspiration for the first novel written by a former Angus high school pupil.
Kirsty Campbell, 23, who was educated at Webster's High in Kirriemuir, has tackled the emotive subject in 'From The Wolf's Den' which has just been published.
It tells the story of Stefan Gundelach, a six-year-old Jewish boy forced to flee from Berlin after SS officers destroy the orphanage he resides in in Nazi Germany in November 1938.
He is sent to Britain via the Kindertransport scheme and enrols in the Grimley Institute For Boys in Kent.
Kirsty has spent the last three years writing the book which turned into a study of her own family history.
She said: "I've always been interested in World War Two history and when I delved into reading more about it online, I found out about the Kindertransport movement, something I wasn't familiar with.
"Kindertransport was a rescue effort during the nine months leading up to the outbreak of war.
"Over 10,000 mostly Jewish refugee children were sent to live in the UK.
"I was shocked I hadn't heard of such a significant movement so I chose for my main character to go through the Kindertransport journey.
"I hope people who follow Stefan's journey learn a little something about it."
She explained her inspiration came primarily from family history.
---
>> Keep up to date with the latest news with The Courier newsletter
---
"My grandfather, David Hunter Forsyth from Tillicoultry, was with British troops at the liberation of Neuengamme concentration camp in 1945, during which he met a German woman named Frieda Anna Maria Naths who was with her starving family nearby.
"My grandpa shot a deer for them to eat, they fell in love and eventually married in Scotland.
"Unfortunately, Frieda died in 1961 and my grandpa eventually remarried my granny. My grandpa passed away in 2005."
Kirsty made contact with some of Frieda's relatives a few years ago.
"Their story always get me emotional, and I wanted to create that emotion through my novel."
Kirsty, who is now based in Aberdeen, began writing to help her cope with depression and anxiety and had always wanted to write a story based in WW2.
Some days she would write, edit or format for 15 hours which she said was draining but Ttotally worth it in the end."
Copies of  'From The Wolf's Den' in paperback are available from the Amazon website.