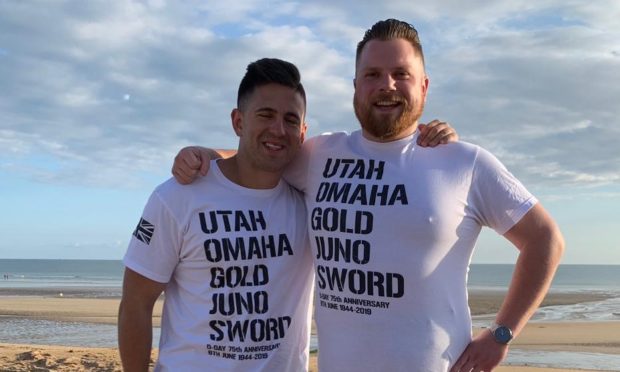 Two former childhood friends whose interest in history was nurtured at an Angus secondary have embarked on a personal pilgrimage across Europe.
Grant Russell, 30 and Jon McKnight, 29, travelled from their homes to land on Sword beach on the north coast of France, marking the 75th anniversary of D-Day.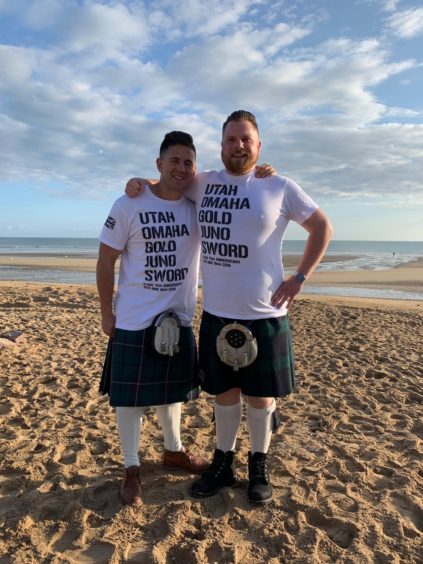 Jon, who lived in Letham and Grant, who was brought up at Bowriefauld outside the village, met in Paris on Wednesday to travel the route the allies took to liberate Europe from Nazi occupation during the Second World War.
Both "proud Forfarians", Grant and Jon now live in South Wales and Denver, Colorado, respectively.
They will wear their kilts with pride as the world remembers the incredible sacrifices made by those who took part in the largest seaborne invasions in history.
Grant said: "I will be wearing my grand-father's Black Watch tartan and Jon the McKnight tartan.
"We will watch the sun rise 75 years to the day the Fife and Forfar Yeomanry landed to fight the Axis armies.
"We intend to travel through France, Belgium, Holland , Germany and Poland to pay homage to the men who gave so much all those years ago."
Jon travelled 4,590 miles to pay his respects with his former classmate.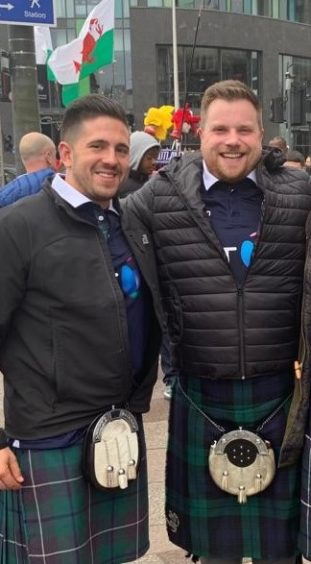 Grant continued: "We both loved history but our teachers at Forfar Academy really furthered our interests.
"We both feel very strongly about our heritage and roots and feel it is a minuscule action to help remember those who so bravely fought for us, some who came home, some who didn't."
They plan to document their journey by videoing sites the Yeomanry and other regiments of the British army had interactions with, including Sword beach, Dunkirk, Pegasus bridge, Nijmegen bridge, which they will post on YouTube on their return.
Grant continued: "We are hoping to run a charitable giving page via Facebook for Help For Heroes.
"We have funded this tour ourselves but would like to give back a small amount to those who we can help now."
Angus Provost Ronnie Proctor, Veterans Champion for Angus, Secretary of the Black Watch Assocation and chairman of the Angus branch of the Black Watch Association, praised the duo on their efforts to commemorate the sacrifices made by Allied troops 75 years ago.
He said: "What they are doing is commendable, I take my hat off to them."