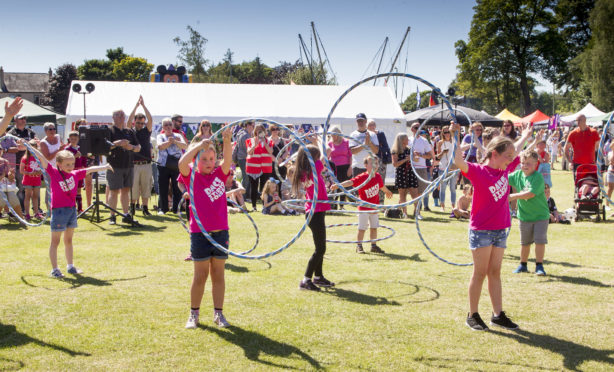 A rallying call has gone out to an Angus community to get behind their town's gala parade – or face the plug being pulled on the spectacle.
The parade was recently resurrected as a showcase for all things Forfar to mark the start of the town's gala day and the culmination of gala week.
Representatives from groups and organisations walk from the Montrose Road Centre, down through the town to the Myre in time for the start of the main event which runs throughout the afternoon.
The gala day takes place on June 23 and the organisers are desperately urging more people to come forward.
Stuart Pirie of Forfar Action Network, which runs the gala week, has warned the parade could be scrapped in future years.
He said: "It's two weeks until Forfar Gala Day on June 23 and the numbers for the parade are very low this year.
"This is quite disappointing as we work hard to organise the parade. The police need to be involved, as does Angus Council's roads department so there is a lot of prepping to do.
"We've sent out numerous emails but few have responded.
"If we had known at the start of the year the amount of people who would come forward, then we wouldn't have done it.
"If there's not a lot of support this year then this will be the last time we do a parade."
There is a circus theme to this year's march through the town, which will leave the Montrose Road Centre at 11.30am to reach the Myre for the official start of the gala day at 12pm.
The parade has been well supported in previous years and this year it will be led by the town's pipe band.
Baxter the Bridie, the Forfar Athletic mascot, will also be part of this year's procession along with members of Saddle Up Ranch with their horses.
Stuart said: "In the past we have had scouts, guides, Forfar pantomime group, Tesco's, community team and Baxter the Bridie.
"If anyone wants to join us in the circus themed street parade then please let us know.
"It could be a group from Forfar Academy, a local club, a pub quiz team, mother and toddlers group, anything really. You don't have to dress up.
"Remember , it's your town and only you can make it better."
A number of attractions are lined-up for gala day itself, which runs from 12-4pm.
There will be Crafts of Scotland stalls, food stalls, live entertainment on the main stage and 80 street dancers.
The Angus Car Enthusiasts will have static displays.
Anyone wishing to take part in the parade can message Forfar Action Network on its Facebook page of contact Stuart on 01307-462061.