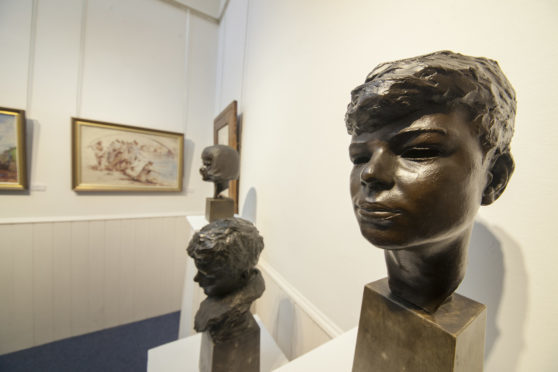 Admirers of Angus sculptor William Lamb are facing down cuts and opening his studio and gallery unsupported for the first time this summer.
Lamb, who specialised in the lives of working people from the east coast of Scotland, bequeathed his studio and collection to the town in 1951 and it has been run as a museum and visitor attraction since 1978.
The council previously paid for a museum worker to open the memorial studio during the summer months and organise visits outside of these hours.
But arms-length council trust Angus Alive confirmed in October the support was being withdrawn.
Hilary White, secretary of the Friends of the William Lamb Studio, said members of the group were determined to ensure the cuts would not affect the artist's legacy.
She said up to 10 volunteers had been trained in opening the attraction, meaning they could retain the summer hours of Tuesday and Wednesday afternoons from 1.30pm to 4.30pm in July and August.
They will also deal with requests for sessions outside of these hours.
She said: "When we were asked to take full responsibility for opening the studio members of group came forward and said they were prepared to do this.
"We are delighted now to be getting ready to opening the studio to visitors from all over the world."
Hilary's comments come as the organisation unveiled a Historic Environment Scotland (HES) national commemorative plaque at the 24 Market Street studio.
She said: "It is no secret in Montrose that William Lamb was not just a brilliant artist – we can see his outstanding sculptures in the town every day – but an extraordinary man.
"It is good to see that wider recognition of his importance is growing once more.
"With financial cuts to the Lamb Studio – which mean our volunteers have to commit increasing amounts of time – it is heartening to see that Lamb is not being forgotten, but increasingly valued, if elsewhere".
William Lamb was born in Montrose in 1893 and trained as a stonemason.  He was invalided out of the Cameron Highlanders in 1917 after receiving injuries to his hand.
Undaunted by the significant nerve damage, he taught himself to work with his good hand and became recognised in the 1920s as an "internationally important sculptor and artist" though his reputation has subsequently faded.
The plaque is one of five HES distributed to "recognise creatives of the early 20th century, whose work was influenced by the First World War."
An Angus Alive spokesman said the organisation had reviewed its role with the studio and were no longer able to provide support.
He said: "We are delighted the Friends of William Lamb are opening the William Lamb Studio so visitors can come and enjoy this fascinating gallery in Montrose.
"Angus Alive maintains its commitment to managing the William Lamb Collection and working with and supporting the Friends of William Lamb through our care of the collection," he added.