IN FULL: 'It was such a fitting tribute': Thousands line the streets of Angus in memory of Steven Donaldson
By
Graeme Strachan
July 22 2019, 8.49am
Updated: July 23 2019, 8.10am
Thousands of people lined the streets of Angus on Saturday to pay tribute to murder victim Steven Donaldson.
A cavalcade of bikers accompanied Mr Donaldson's family from Arbroath's Victoria Park to Kinnordy Nature Reserve in Kirriemuir where his body was discovered in June 2018.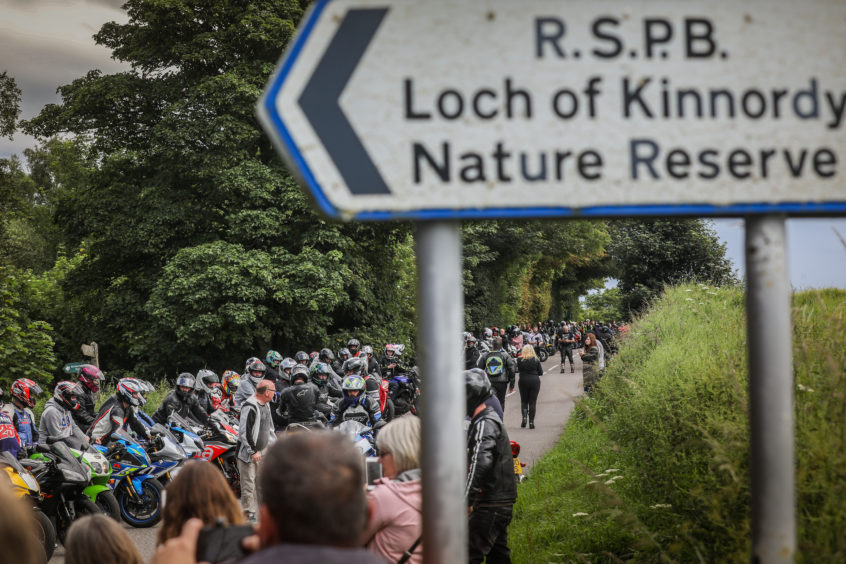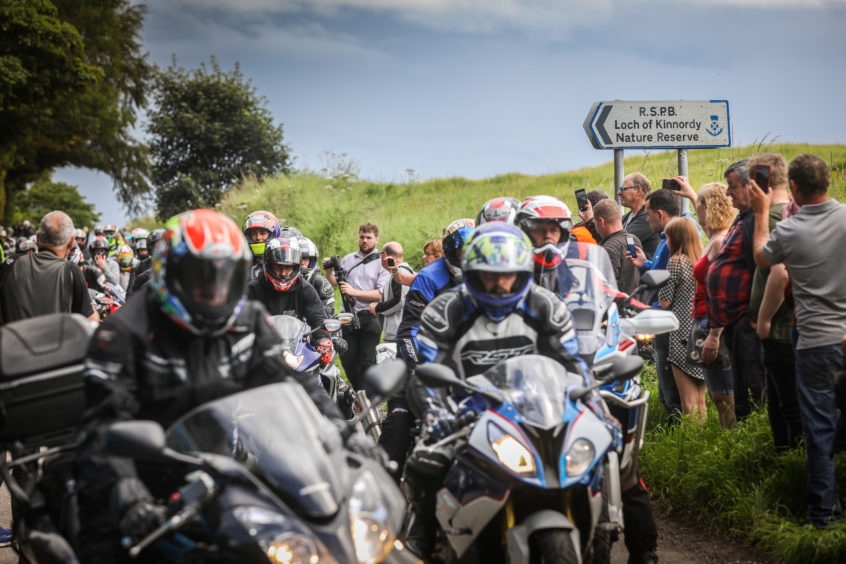 They showed their respect to the popular 27-year-old Arbroath oil worker through the deafening roars of their mean-machines in a summer memorial run across the district.
Mr Donaldson was known for a love of fast cars and powerful motorcycles and the event took place just a few days before what would have been his 29th birthday.
There were incredible scenes as people lined the streets of every town and village on the route to applaud the hundreds of bikers who travelled from all over Scotland.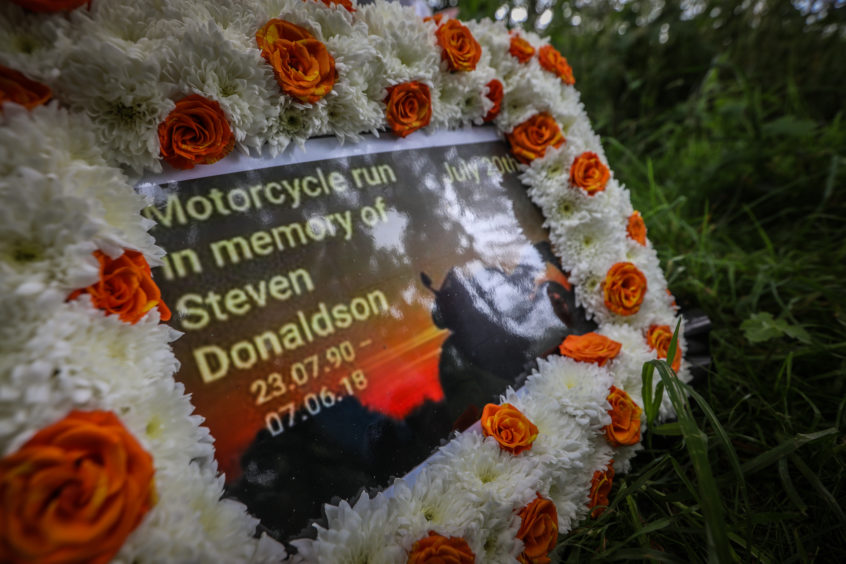 Mr Donaldson's sister, Lori, said: "The bike run massively exceeded our expectations and as a family we were completely overwhelmed by the amazing turn out.
"It was such a fitting tribute, and Steven would have been so proud.
"It was a very emotional day and we would like to thank everyone involved for making the day so special for all of Steven's family and friends."
She gave a special thanks to Billy Connell, 35, a plant operator from Banff and himself a lifelong biker, who organised the remembrance with his wife Irina.
She said the couple had helped "restore our faith in humanity".
Mr Connell said he had a lump in his throat when he saw the amount of bikers.
He said: "Everybody just wants to be a part of this and show Steven's family that they care and that Steven won't be forgotten.
"I think the severity of what happened to Steven shocked so many people."
The memorial run started in Arbroath before setting off across Angus, passing through Kirriemuir where shops and businesses in the town closed their doors as a mark of respect.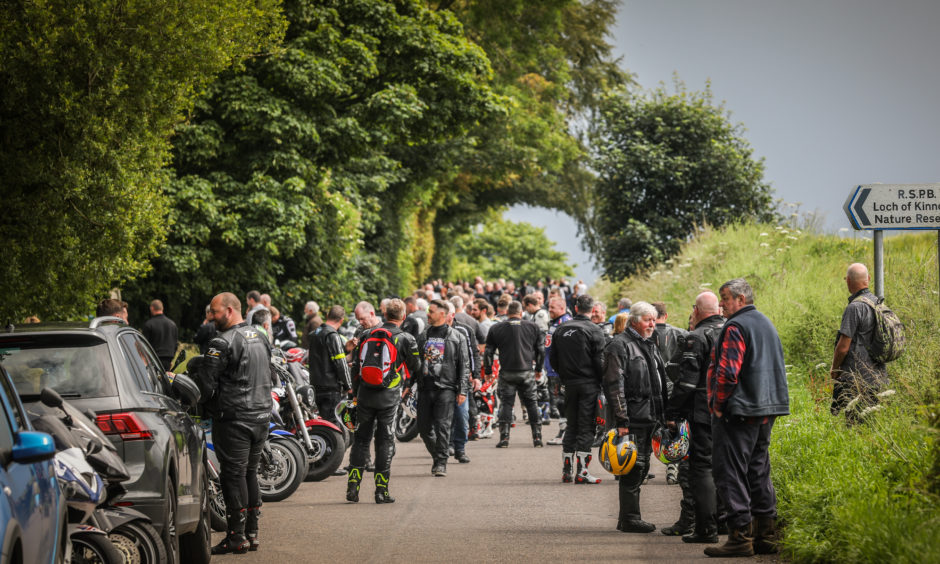 Emma MacDonald from Pixie Dust was among those closing their business for an hour to support Mr Donaldson and the bikers.
She said: "We didn't know Steven, but we feel very strongly that this is the right thing to do, out of respect for him and for his family and friends."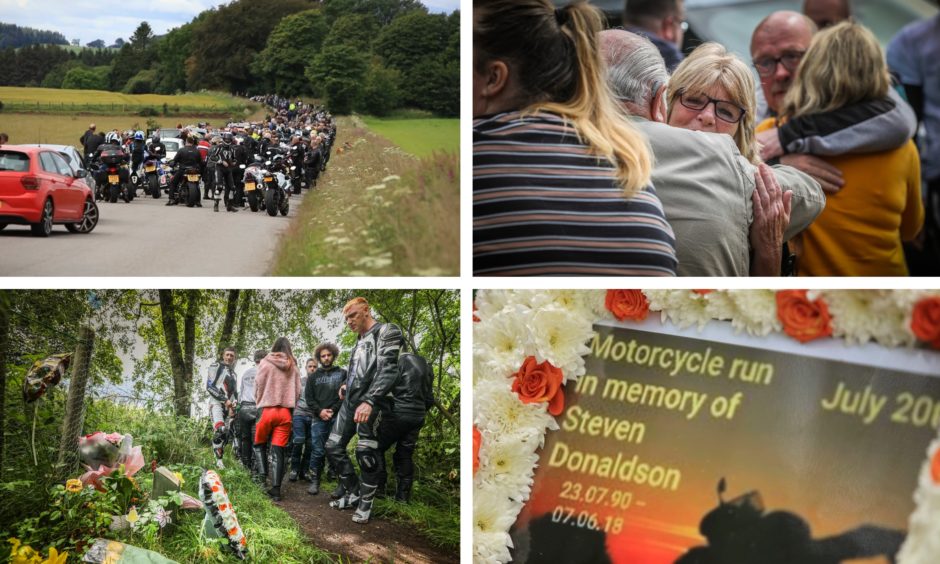 The slow convoy passed through before arriving at Kinnordy Nature Reserve where the family laid a wreath at the young oak tree which was planted in November, close to where his body was found.
There, helmets under their arms and their heads bowed, the bikers fell silent in remembrance of their fellow enthusiast, before opening the throttles of their machines in a cacophonous tribute of high revs to the Valentino Rossi fan.
Mr Donaldson's family were then led home to Arbroath by the motorcycle convoy.
Angus Council leader David Fairweather said: "I think the turn out shows just how well liked Steven was and the strength of feeling surrounding his death.
"I'm sure this will bring a lot of comfort for the Donaldson family."
Horror at Kinnordy
Steven Dickie and Callum Davidson were convicted of Mr Donaldson's murder following a trial at Edinburgh High Court.
Judge Lord Pentland ordered they serve a minimum of 23 and 24 years respectively.
The two men had initially assaulted their victim at a car park beside Kirriemuir's Peter Pan playpark then drove him, seriously injured, in his white BMW to the RSPB reserve two miles from the town.
Mr Donaldson tried to flee but was viciously beaten at the entrance to the nature reserve then repeatedly hit with a heavy bladed weapon – which has never been recovered – suffering fatal blows which twice severed his spinal cord.
He was dragged back across the car park and placed under the front of his car, which burned with such ferocity after being torched that the thousand degree blaze caused the vehicle to collapse on to the victim's legs, charring them beyond recognition.
Farmhand Davidson and tyre-fitter Dickie blamed each other for carrying out the murder.
His ex-girlfriend, Tasmin Glass, who gave birth to her victim's baby earlier this year, was found guilty of culpable homicide and jailed for 10 years after she lured Mr Donaldson to his death.
All three killers have since appealed their convictions, to the disgust of hundreds in the small Angus town.