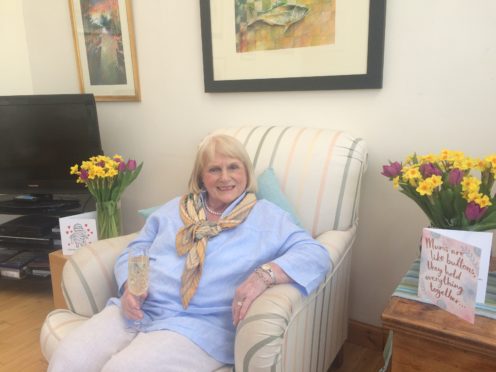 A well-known Angus teacher who nurtured the musical talent of hundreds of pupils has died at the age of 93.
Ruth Powrie played an important role in the Arbroath community, being musical director of the popular Arbroath Minstrels for years and conductor of a ladies' choir in the town.
She was organist at St John's Methodist Church, stepping down at the age of 88.
Her dedication to music and her home town was recognised when she was named Citizen of the Year in an event run by Arbroath Rotary Club.
A gifted musician who could play music by ear at the age of four, she attended Abbey School and Arbroath High School.
At the age of seven she won her first singing medal, the Herbert Howarth Medal, at the Arbroath Musical Festival.
She went on to win four silver and one gold medal at the festival before the war.
She won a Sir James Caird Travelling Scholarship and attended the Royal Scottish Academy of Music in Glasgow.
In 1945 she gained the qualification LRAM which allowed her to charge a professional fee for singing.
In the immediate post-war years she increased her training by attending the Royal Academy of Music in London in 1947, again through a Caird Scholarship.
She fulfilled her life-long dream of performing on the Royal Albert Hall stage under the baton of Sir Malcolm Sargent, recognised as Britain's leading conductor, and years later was to perform in the Sheraton Hotel in Abu Dhabi.
She moved back to Arbroath and met David Powrie, who had returned from war duties in Burma.
The couple were married in 1951.
As well as teaching at Hayshead Primary School and at secondary school level, Mrs Powrie tutored numerous local singers, including Arbroath soprano Layla Brown who also went on to study music in London.
She was musical director of many choirs which sang throughout Angus.
Her concerts were renowned for their quality of singing, musical arrangements and her sense of fun and humour.
She was a tireless fund-raiser for the Chest Heart and Stroke Foundation after her youngest son, Paul, underwent open-heart surgery when he was in his teens.
She continued fundraising well into her 80s.
In later life she also went back to studying, gaining a degree in music, art and literature at the age of 73.
She gained a BA (Hons) degree from the Open University, the culmination of six years hard work during which she completed residential courses at York and Stirling universities.
Mrs Powrie was pre-deceased by her husband in 1991 and is survived by their four children, six grandchildren and one great grandchild.
Her funeral takes place at 12.30pm on Tuesday July 30 at St John's Methodist Church, Arbroath, then on to Arbroath Eastern Cemetery.