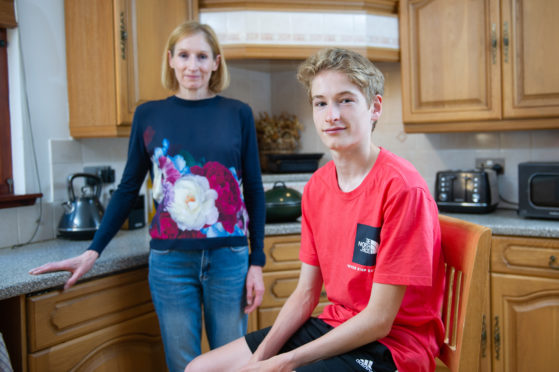 An Angus mother campaigning for better awareness of the lethal dangers of food allergies has welcomed steps by the Scottish Government to introduce new food labelling legislation.
Jo McColgan, 49, a chartered physiotherapist and sports scientist from Forfar, has seen at first hand the devastating consequences of an allergic reaction.
Her son Ethan, 15, has been admitted to hospital on three occasions following mistakes made in restaurants.
He was only 18 months old when he was diagnosed with a severe tree nut allergy and dining out can be a nightmare.
Jo said: "We always have to be so well prepared and plan ahead.
"We phone restaurants in advance to make sure they are aware Ethan has a severe allergy."
She had urged the Scottish Government to follow its UK counterpart's introduction of Natasha's Law – named after the London teenager who died after suffering an allergic reaction – warning Scotland could face a "ticking time bomb" if nothing was done.
The Scottish Government has now pledged to take forward legislation to provide full ingredients labelling for all foods pre-packed on the same premises from which they are sold, to ensure the best protection for consumers.
Jo said: "The implementation of Natasha's Law by the Scottish Government is very welcome news.
"This will offer an extra level of protection and enable safer and more informed decision when making food choices. Ultimately this will save lives.
"If more lives are to be protected, this law should not stand alone and should be introduced along with continued measures to increase education and awareness regarding food allergies and anaphylaxis.
"I hope the Scottish government take the initiative and introduce this law at the soonest opportunity."
It also emerged Scotland was facing a "postcode lottery" with regard to courses run by councils and local authorities.
New figures suggested 12 of 14 health boards and 25 of 32 councils in Scotland have not run any dedicated courses on food allergies.
In Tayside and Fife, a number of initiatives have taken place over the last three years.
In Angus, environmental health officers discuss food allergens and gave advice on controlling risk during every food safety inspection, and training for Dundee City Council staff is available.
Perth and Kinross Council has provided 11 training courses on Food Safety Management attended by 220 members of staff. Food allergies are covered within these training courses.
NHS Tayside Head of Catering Caroline McKenzie, said: "NHS Tayside takes its responsibilities in regards to allergies very seriously.
"Training on the current food regulations including allergens is provided to catering teams, nursing staff and other staff on an ongoing basis."
Scottish Conservative MP for Angus, Kirstene Hair, also welcomed the SNP Scottish Government move.
She said: "People like my young constituent Ethan shouldn't have to be at risk because of a postcode lottery.
"This legislation must be introduced urgently when the parliament reconvenes."