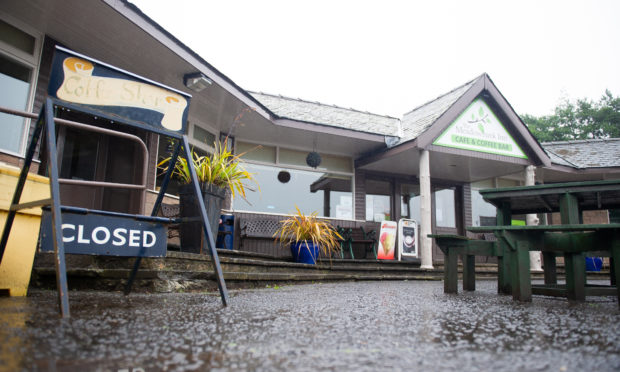 Customers at a popular Angus eatery were advised to leave after torrential rain from nearby fields poured into the car park.
Staff at Arbroath's Meadowbank Inn become concerned as the depth of floodwater increased.
One witness said that customers with vehicles in the car park were advised to leave around 3.30pm, amid fears that the vehicles could be trapped.
She said: "With polytunnels on the sloping field behind the restaurant, the water has nowhere to go.
"When they built the roundabout at the new housing development, I think there was more drainage put in, but it hasn't been able to cope.
"At one point the road was flooded quite far back to a nearby garage.
"People were advised to leave, but the restaurant closes at 4pm anyway, so people weren't too inconvenienced."
Arbroath East and Lunan Councillor Brenda Durno was one of those who left the venue.
She said: "The flooding was really bad, and I had to take an alternative route to get home, but it was really hard going.
"I know some people have had to take some pretty lengthy detours to get into Arbroath.
"Because of the effects of climate change, the council is actively looking to see if the infrastructure such as roads and bridges can cope with extremely heavy rainfall and flooding events such as this."
In the village of Muirdrum, one householder's property was deluged by floodwater for the first time in more than 30 years.
Water poured into Alan Berg's property around 2pm and rose to a depth of around a foot in every room in the house.
"The rain just kept coming down and we could see the water coming down the road from Forfar. He's been here probably 30 years and there has never been flooding in the house," said one friend involved in the mop-up operation.
"It's reached the garden before but has never come into the house and the water is through every room, probably more than a foot deep."
"Other houses on the opposite side of the road have sandbags out and I came up the road from the Carlogie side which was quite bad, but nothing like what was coming down from the other side."
Muirdrum was hit by serious flooding a number of years ago when the A92 ran through the hamlet but has escaped serious problems since the construction of the adjacent dual carriageway between Dundee and Arbroath.