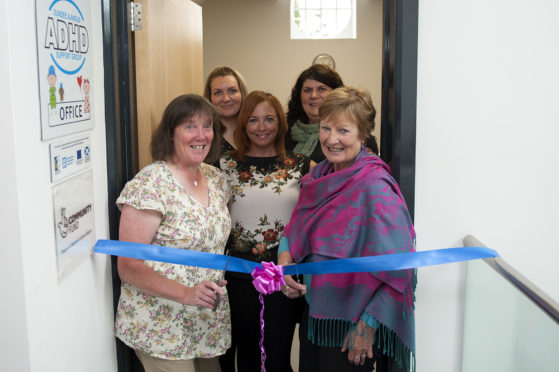 A Tayside charity which offers advice and support to families dealing with behavioural disorders has opened a second base to cope with an increase in demand.
The Dundee and Angus ADHD Support Group has expanded its services with the opening of an office in the new Friockheim Hub.
It will run a pilot weekly drop in session for one year for parents whose children are dealing with attention deficit hyperactivity disorder (ADHD).
It is hoped the Angus group will enable more local families to use the support currently on offer from the charity based in Manhattan Works in Dundee.
A spokesman said the charity, now in its sixth year, works with 50 young people and families a week through youth work and parent support.
It was set up to address a lack of support and guidance for families with ADHD.
She said:  "We are opening the Angus office to reach more families.
"At the moment we will be offering a parent support group in the Hub's accessible space once a month.
"Lynne Kelly, our support and development officer, will be working with families throughout Angus who require our support at any stage of the ADHD diagnosis and beyond.
"We aim to reach as many families as possible. To do this we will be looking to build relationships within the Angus communities and other third sector and statutory organisations."
The project is part-funded by the Scottish Government and the European Community Angus LAG Leader 2014-2020 Programme.
The new centre was officially opened by Angus Councillor Lynne Devine, SNP member for Forfar and District.
She welcomed the charity's expansion and spoke of the vital role in supporting those with ADHD.
She said: "It is a great accolade to the people who worked so hard for so long to create it.
"As an ex ASN (Additional Support Needs) teacher and member of the children and learning committee,  I know how much support families of children and young people with ADHD could do with.
"Schools do try very hard but they are up against cuts while needs are constantly increasing.
"In any case, the challenges exist after school and over weekends.
"Looking at the Dundee website I can see there are lots of activities which have probably come from ideas from the young people and parents themselves.
"Groups like this are so important for help and support where children can meet children and parents can meet parents for mutual support."
The support group will run on the last Tuesday of every month from 12.30 to 2.30pm.
Families can drop in rather than book or can contact Lynne Kelly in The Hub@Friockheim.