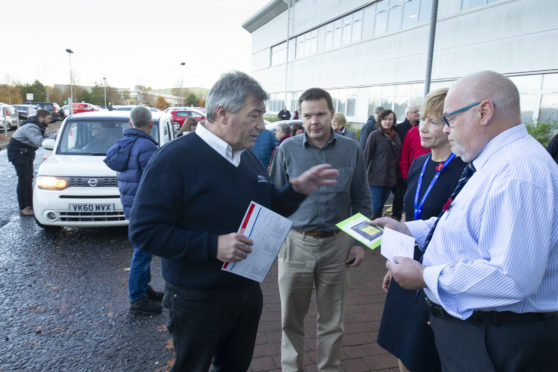 The leader of Angus Council's administration has been branded a hypocrite for by-passing meters to park free of charge in a supermarket car park while attending a council meeting.
Councillor David Fairweather was spotted driving out of Asda's car park in Forfar on Tuesday, after attending a two-hour scrutiny and audit meeting in the nearby town and county hall.
Mr Fairweather, Independent member for Arbroath West, Letham and Friockheim, blamed a torrential downpour shortly before 11am for his decision to park at Asda, rather than paying to park in St James Road, Myre or Greens car parks where meters were installed last year by his administration.
He said: "This is, as far as I am concerned, a non-story.
"This is the first time I have parked in Asda in a long time, there is nothing sinister about this."
However, he admitted he normally parks in the small, free car park at the 'old baths' near the Cross.
He said: "I couldn't get parked, I wanted to be as close as possible as it was absolutely belting with rain.
"To say on occasions I haven't paid for parking is a complete nonsense.
"I am quite happy to pay if required."
He added he pays to park at Arbroath harbour and the car park behind the Webster Memorial Theatre in his home town and makes regular use of public transport.
For almost a year Mr Fairweather has promoted parking charges and residents' permits after they were introduced on November 1.
He admitted he has not purchased a permit for himself, adding: "It's one of those things, I haven't given it a thought."
His actions have been condemned by prominent Angus businessman Barrie Ewart, who presented a petition against charges to Mr Fairweather at the council's headquarters on November 8 during a major protest.
He said: "This doesn't surprise me, he is a complete hypocrite.
"Why is he not paying to park?  It's his rules, he should live by them.
"We are not being listened to, nobody is taking any responsibility.
"As council leader he should be leading them to admit they were wrong.
"Maybe somebody should ask him about the people attending a funeral in Kirriemuir this week, who had to queue in the pouring rain at ticket machines, how does he feel about that?"
Parking meters were installed at 33 council car parks last year by the cash-strapped authority in the hope of generating £700,000 per year.
Mr Fairweather defended their introduction, saying: "The roads budget had to be reduced by 50% over the last two years.
"We desperately need the revenue to maintain the roads infrastructure Angus deserves.
"It seems entirely appropriate this comes from funds raised from people parking their cars as they are the ones using the roads we're looking to protect."