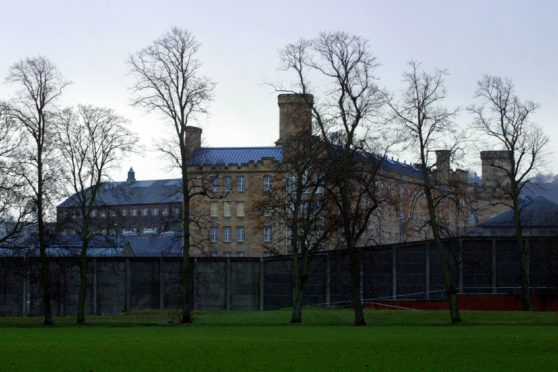 A drone pilot caught trying to fly a mobile phone into a maximum security prison has been jailed for nine months.
Philip Moreton was found hiding in a hedge near Perth Prison and claimed he was searching for his pet chihuahua as it had been dognapped by a Romanian circus troupe.
Sheriff Pino di Emidio described Moreton's shaggy dog story as "fanciful" and said: "It was one of the most remarkable lines of defence I've ever heard."
Moreton, then of Kirriemuir, now living in Portsmouth, was found guilty at a trial of trying to fly a drone into the jail when Perth Sheriff Court heard how Moreton was caught red-handed after driving the getaway car into a cul-de-sac and being found hiding in bushes.
The 33-year-old was heard rustling in the undergrowth after prison officers chased the 70mph drone away from the outer wall of Perth Prison.
Moreton was spotted putting the drone into the boot of his Audi but he drove up a dead end and the officers blocked his escape.
He clambered over a six-foot fence to try to escape and used his remote locking key to deadlock the car with the active drone in the boot.
Moreton claimed he was near the prison in the dead of night because he believed Romanian circus performers had stolen one of his pet chihuahuas.
He said: "We were told the circus left the dogs outside at night. As daft as it might sound, I brought the dog's father, Archie, to see if he could find it."
Moreton then claimed he was found in the bushes because he had downed a litre of vodka and had collapsed in the middle of the dog-hunt.
He said he had been using the drone to search the riverbank for the dog.
Co-accused Cheyrell Davie, 38, was cleared after the sheriff ruled there was "insufficient evidence" to convict her.
She was found walking several miles away from the scene some time later.
Prison officers told the trial they could see the drone – still switched on – in the boot of the Audi Q3 alongside Moreton and Davie's dog, Archie.
Scaffolder Moreton was found guilty of trying to use a drone to fly a mobile phone into Perth Prison on September 18 2016. He also admitted having a phone in the prison on May 4 2016.