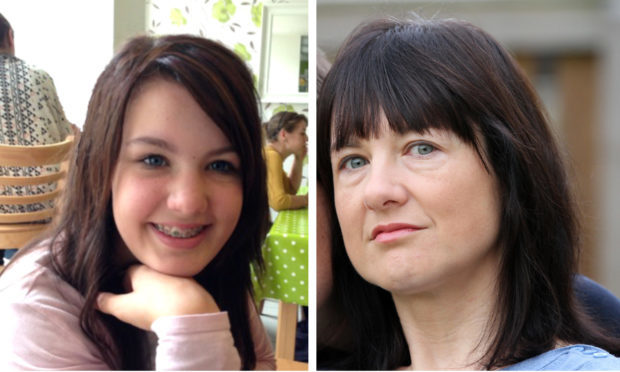 A 13-year old who would go on to take her own life was dismissed as a low risk despite previous suicide attempts, a court has heard.
Sophie Parkinson died in her family home in Liff in 2014, aged 13.
It followed months of care her mother Ruth Moss described as "ambivalent", during the first day of a fatal accident inquiry (FAI) at Dundee Sheriff Court into the teen's death.
As well as Sophie's two previous suicide attempts, concerns raised by Mrs Moss were numerous incidents of self harm, telling men online she was 18-years-old and sharing inappropriate images, striking up a friendship with a man in his 30s she met on a bus and looking up self harm and suicide guides online.
Despite this, she was told Dundee High pupil Sophie did not meet the criteria for inpatient care by the Children and Adolescent Mental Health Services (CAMHS) in Tayside.
Mrs Moss criticised the lack of communication she felt was prevalent throughout her daughter's treatment.
She said: "Feedback would be given in a waiting room with other people around, which was unprofessional."
Mrs Moss, who now lives in Edinburgh, said she respected care is confidential, but as Sophie would "often tell adults what she thought they wanted to hear" she felt better engagement with her family was needed.
She added: "Sophie was really kind and sensitive and very clever. Her intelligence level was above her years.
"Unfortunately towards the end of her life she became very difficult to manage, but deep down she was a great girl.
"But she would lie and could be manipulative. She would tell adults what she thought they wanted to hear.
"It feels awful to say bad things about her when she isn't here to defend herself, but they were manifestations of her not being well.
"These things were outlined to clinicians, not just by me but by the school (High School of Dundee) as well but it wasn't believed or it wasn't listened to."
As an example of poor communication, Mrs Moss described her anger when Sophie's consultant appeared at the family home days after her death — despite her never getting a clear answer who was ultimately responsible for Sophie's care while she was alive.
Mrs Moss said: "I said to myself 'I remember asking that question'.
"I remember my indignation at finding out who her consultant was after she died."
She added: "Nobody at CAMHS believed Sophie would take her own life, even though she did try twice before and that Sophie had looked up ways to kill herself, but at one point a doctor asked me why I was so strict with her internet use."
Advocate Richard Pugh, representing the health board, took Mrs Moss through a number of documents which outlined various appointments but she said it was the quality of care she was concerned with.
"If we take what's written down at face value it looks fine, but when you examine what happened it is not," she said.
A NHS Tayside spokeswoman said the health board could not comment on an ongoing legal proceeding.
The hearing before Sheriff Lorna Drummond continues.