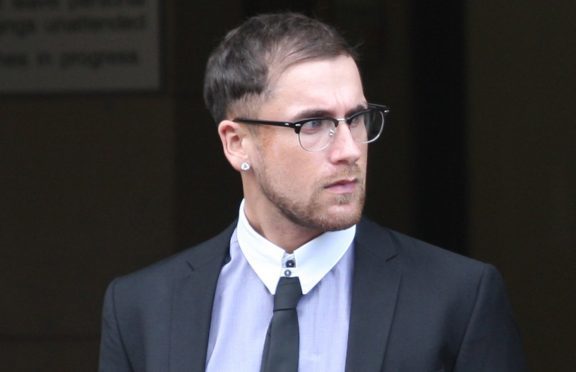 The mother of a woman assaulted by a Dundee man has branded her daughter's attacker "evil".
Ryan Devaney, 28, dodged jail despite admitting assaulting a young Dundee mother and a man, who cannot be named for legal reasons, on various occasions in 2015 and 2016.
Devaney had previously been acquitted of trying to murder a baby and was last week ordered to carry out 300 hours of unpaid work for attacks on the child's mother.
The 28-year-old, formerly of Dundee's Provost Road, spent a week on trial in September charged with the attempted murder of an 11-month-old boy he had been asked to supervise.
Authorities believed they had enough evidence to charge Devaney with attempted murder but jurors acquitted him of the charge.
The grandmother of the baby boy, the mother of the woman Devaney assaulted, has said she intends to ask The Crown Office for an investigation into how the assault on her daughter was handled.
Neither woman can be named in order to protect the baby's identity.
Blasting the verdict and branding Devaney "cocky and evil", the grandmother demanded to know why Devaney had avoided prison.
She said: "People go to jail for a lot less. It's appalling, absolutely appalling.
"I think someone on the inside is protecting him, I have asked the Procurator Fiscal for an investigation.
"Ryan Devaney is one evil person. He's always been cocky but he's become even cockier because he knows he has got away with it."
According to the devastated Dundee woman, Devaney's victim had to have significant surgery after being attacked and has been left permanently scarred.
She said: "My daughter had to have a major operation on her nose and has been permanently disfigured. He battered my daughter.
"Have I lost faith in the justice system? There is no word in the dictionary for how I feel."
On Tuesday, Devaney's lawyer Brian McConnachie QC said his client had appreciated his actions were wrong.
He said Devaney had moved to Swindon and was working as a painter and decorator
Mr McConnachie added: "He realises he no longer has a future in Dundee."
Devaney will return to court on October 31 2018 in order for a high court judge to learn if he has been complying with his unpaid work order.
The Crown Office has been approached for comment.