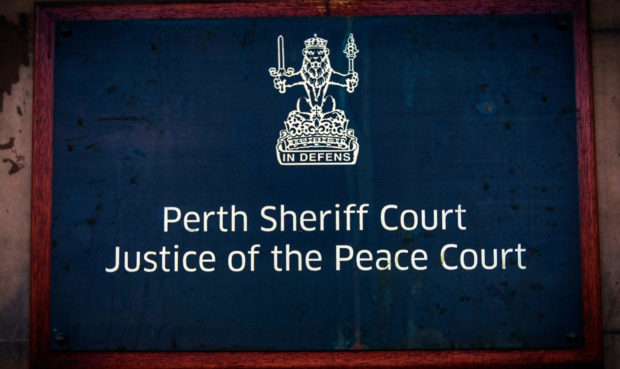 A former professional dancer has been fined £2,400 for killing his partner by driving too fast and crashing on the day he bought his new car.
College lecturer Steven Martin caused the death of freelance artist Gregory Edgar, 33, by spinning out of control and smashing head-on into a pick-up truck.
The 33-year-old caused the fatal crash less than two hours after buying the Skoda Fabia and Perth Sheriff Court was told he had driven no more than 10 miles in total in the vehicle.
The court was told Martin, of Falcon Path in Glenrothes, had only been driving for 18 months.
Sheriff Lindsay Foulis said: "This accident was caused as a result of you negotiating a corner at a speed which was too fast for the prevailing road conditions and you over-steered in an attempt to regain control."
Defending solicitor Jamie Baxter said Martin's previous car had failed an MoT so he had decided to buy the Fabia on January 19.
Mr Baxter said: "He accepts the accident occurred because he was driving at excessive speed for the road conditions. When he took the bend he lost control of the vehicle.
"The vehicle came out of the bend and crossed the carriageway into the face of oncoming traffic."
Partner admits driving too fast in winter conditions before crash which caused death of Dundee artist
Depute fiscal David Barclay told the court: "Mr Edgar was a front seat passenger in a Skoda Fabia being driven westwards by his partner Steven Martin. Stephen McCord was travelling eastwards in his Ford Ranger pick-up. His wife Yvonne McCord was the front seat passenger. The collision took place around 10.45am. As the Skoda negotiated a right-hand bend it was driving too fast for the conditions and the accused has lost control.
"It is not suggested that the accused was travelling in excess of the speed limit but merely that he had failed to adjust his speed to account for the road condition.
"The accused appears to have over-corrected, resulting in his car crossing the carriageway, spinning clockwise and striking the oncoming Ford Ranger nearside first."
Mr Barclay said the McCords were able to get out of their vehicle but had sustained a number of injuries.
He continued: "Gregory Edgar was drifting in and out of consciousness, bleeding and obviously seriously injured.
"He was taken to Ninewells Hospital in Dundee. He had a severe brain injury which he was unlikely to survive.
"Arrangements were made for him to undergo organ donation which took place in the early hours of January 24 2018, after family members had access to say their farewells. Treatment was withdrawn and Gregor Edgar died at 3.04am the same day."
Martin was banned from driving for two years yesterday after he admitted causing death by driving carelessly and at excessive speed on the A926 New Alyth to Blairgowrie road.