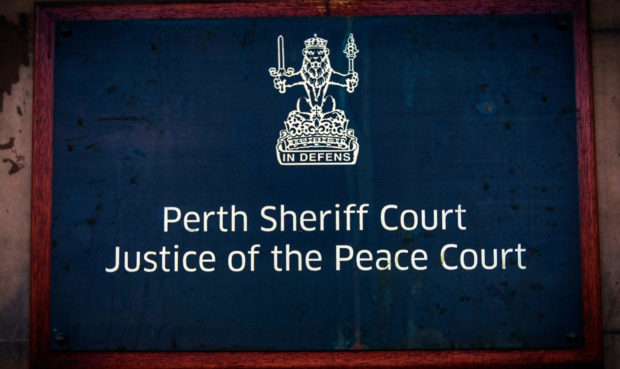 A pet owner who stood by and watched as her Staffordshire bull terriers savaged a pensioner and his labrador has been banned from keeping dogs for 10 years.
Sheriff Lindsay Foulis also ordered the destruction of the three terriers responsible for the attack which left Alexander Brock, 76, badly injured.
Mari Calikes, 35, wept as the order was issued to destroy Yoshi, Gizmo and Witch and said her partner would leave her because he would blame her for the dogs being put down.
Sheriff Foulis said: "It is clear that unpleasant injury was caused to Mr Brock. The dog required veterinary treatment.
"Unfortunately the accused did not react in the way you might have expected. It is clear she is not able to control the dogs."
Perth Sheriff Court heard how Mr Brock was savaged by the pack of dogs on a riverbank as Calikes stood by because she did not want to get her trousers dirty.
The retired electrician said: "My dog Jodie was squealing. These dogs just came from nowhere and jumped on her.
"They were biting her. They pulled her down into the water. I tried to cover my dog's face and that's when they bit me. They bit my hands and arm. I was covered in blood at the time
"I had to go to Ninewells Hospital to get my tendons seen to. I couldn't open my fingers. I had to wear a sling for five to six weeks."
Another dog walker told the trial Calikes refused to intervene because the ground was muddy.
Retired interior designer Moira Strath, 72, said: "She wasn't going to help the gentleman. I said she should help but she refused and said she might get dirty if she did that. She wasn't willing to do anything.
"The labrador's owner was completely covered in blood."
Mrs Strath said the attack lasted several minutes before Calikes finally started to walk down the hill towards where the dogs were attacking Jodie.
She said Calikes slipped and then said: "Have I made my trousers dirty?"
Perth and Kinross Council dog control officer Karen Wilkie, 43, said she had visited Calikes' home on "eight or nine" occasions in relation to dog fouling and housing issues.
Calikes, Sauchie Terrace, Crieff, was found guilty of being the owner of dangerous dogs which attacked and injured Jodie and Mr Brock in Crieff on 15 November 2017.
She had then delayed a court order to get the dogs neutered and had defied a bail condition not to have the dogs in her home while she was awaiting the outcome of the case.