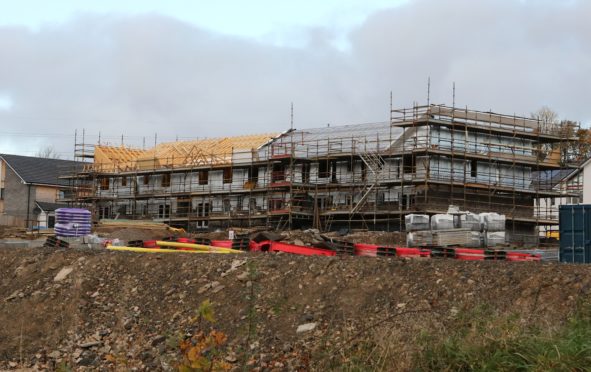 A Dundee building firm has insisted it is the victim of a smear campaign after a fire safety investigation was launched into one of its housing developments.
Dundee City Council and the Scottish Government have launched a joint probe into new homes being built on Whitfield Loan and Summerfield Avenue.
The probe was instigated after a local resident contacted MSP Shona Robison with concerns about wall cavities in the new homes.
However, Invertay Homes claims someone is out to sully their name and have brought the matter to police.
A spokesman confirmed they are investigating "offensive comments" posted online.
In a social media post, Invertay Homes claim the situation has escalated in recent weeks, with the person supposedly writing "malicious" letters to local authorities, central government, and "several other individuals".
https://www.facebook.com/permalink.php?story_fbid=1171295296396309&id=338591832999997&__xts__[0]=68.ARA0-8hx_tfPlUHWVe4bYnBEVKEPNm5_8uFKs9VH3r4H9q91ypAPLIF6QSBmuSf7B5XsFHmgXdT1RZHVHDIv6SEdstZJ7mNeek5vlJsiP8Iu2g0ZdXEpNRCDKh7S0s5G8zZ7dWP02gRwQrVbnpffV3NPDmy7Qw1CC_R1vwE2KyJT5Dcf0jem-drDKc2RYTcdZim3c8LFauEYC8SlU6mbFTknk6-xmNvZ78kuH4zR8mwobdAd1VbfZop3PGrlx2uOqtm88wCyPGvP2qQUa-XHGYb8E-KMHSLFzhtgxII0tJsfcjQrnmfghGkSlYlqfNj0ywcVNJ-bFfUC_LGBhfVFHQ&__tn__=-R
The firm would not be drawn on who is behind the alleged campaign, or why, saying they do not want to hamper the police investigation.
Ms Robison said: "I raised concerns directly with Dundee City Council and understand investigations are underway.
"I have also been assured that residents and myself will be kept updated on this matter."
While no "major" issues have been found in Whitfield, Invertay Homes has been ordered to take measures in Dalkeith after a similar investigation there.
A Midlothian Council spokeswoman confirmed issues with the cavity wall fire barriers were detected and the council's building standards team ordered additional intumescent material be included.
The spokeswoman said: "Subsequent site visits were made to make sure the non-compliance issue was rectified. The work does appear to have been carried out.
"The building in question is currently still under construction and our building standards service continue to visit the site to make sure the building standards are being met."
A Dundee City Council spokeswoman said: "When these matters are raised they are investigated thoroughly by the council.
"There is an ongoing investigation, which the developer is supporting fully. To date no major issues have been identified."
The spokeswoman would not be drawn on whether any non-major issues have been detected.
Invertay Homes commercial director Michael Pratt said "all of our homes" are built to the "same high building standards".
He added: "There is no fire safety issues on any of our developments.
"Third party and completely independent professionals regularly inspect our construction sites in addition to all of the usual building standards inspections carried out by the local authority.
"Owners of our homes have absolutely nothing to be concerned about with regard to these malicious and unfounded assertions."
A Scottish Government spokeswoman said: "We can confirm that we were made aware of a fire safety inquiry into new built homes by Dundee City Council and Midlothian Council.
"Scottish Government officials have made contact with both councils and been assured that they have carried out reasonable inquiries with the developer and are satisfied that there is no reason to suggest there properties are unsafe."
Invertay Homes made headlines last year with ambitious plans to bring a skyscraper to Dundee waterfront, which would create the tallest building in Scotland.