The leader of Dundee City Council has said proposals to create Scotland's tallest building on the waterfront appear to be "fantasy".
Developers InverTay Homes have designed a 141 metre tall, 39-storey skyscraper they say could be created between the V&A and Tay Road Bridge.
The ambitious £200 million plan would, if it ever comes to fruition, be Scotland's tallest building.
However, the developers admit their proposals for the building, called Discovery Heights, are no more than concepts at this stage.
Director of operations Eddie Wighton told The Courier: "We're a long way off in terms of it becoming a reality and in terms of a formal application or securing the site – but the building itself is quite advanced."
Mr Wighton said other sites for the building, which also includes a hotel, could be considered.
---
---
VIDEO: Dundee developers reach for the stars with plan for city skyscraper
Now Dundee City Council leader John Alexander has said the proposal does not conform to the local authority's plans for the waterfront.
In a post on Facebook, Mr Alexander said: "I won't pass comment on the actual proposal but this is news to me. In fact, it's news to all of Dundee's councillors.
"There is absolutely no planning application in for this.
"It does not conform to the Waterfront Development plan. It does not conform to the city-wide development plan."
He added InverTay has no agreement in place for development on site 12.
Mr Alexander said: "The whole thing seems like an absolute fantasy at this point."
A spokesman for Dundee City Council said: "While we are keen to find out more about this interesting concept, such a project would face a number of important challenges.
"All proposed development at the Waterfront is guided by the Dundee Central Waterfront Masterplan, which also forms part of the city-wide Local Development Plan.
"It sets out the land
use strategy and guides decisions taken by council officers and the planning committee.
"The scale of a large development such as this may not be appropriate in this context, as well as the question of its proximity to aviation flight paths.
"Dundee City Council has previously agreed an exclusivity agreement at the site and negotiations are ongoing."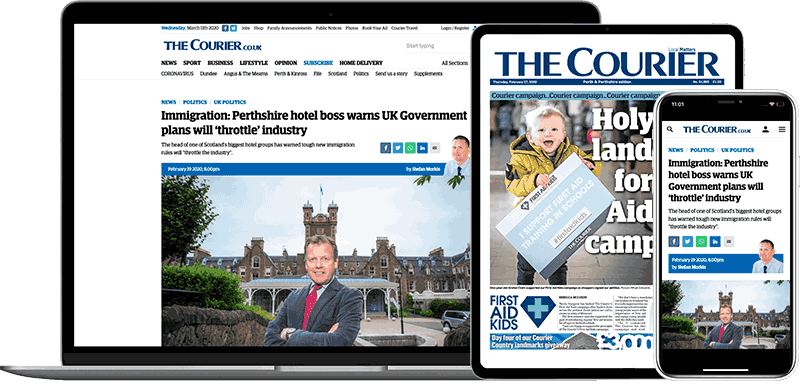 Help support quality local journalism … become a digital subscriber to The Courier
For as little as £5.99 a month you can access all of our content, including Premium articles.
Subscribe