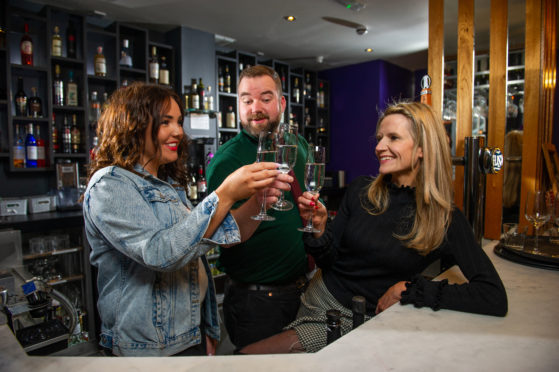 The future of Dundee's first Hogmanay party in decades is hanging in the balance after organisers said an "unfeasibly tight timescale" was forcing them to explore other options.
Dundee City Council's licencing committee met yesterday and gave the street party the green light.
However, the team behind the event, GMC Ventures, were told concerns raised by the local authority's principle events officer Claire Dow would have to be addressed by December 20.
Jill Gibson, of GMC Ventures, has now hinted the gathering may be in trouble.
Following the talks, she said: "Due to this unfeasibly tight timescale and in light of costs which are spiralling daily, largely due to advice which has been given too late in the planning process, there is a great deal of financial risk attached to us running this event so we are now exploring other options and will be in a position to announce our intentions in due course."
The event, called It's Happening, has been billed as the first large-scale Hogmanay street party in Dundee since 1999.
The View frontman Kyle Falconer is set to headline, following live music from Eddi Reader, rock pipe band Gleadhraich and Sinderins.
The licence application was due to be heard in private yesterday, but the committee's convener Stewart Hunter moved for it to be heard in public.
Ms Dow highlighted a number of issues surrounding the safety and planning of the event, including concerns about toilets, muster points, barriers, bus queues on Crichton Street and first aid provision.
She said: "The wording of the plan is vague. It undermines the work going into it.
"We should not be making assumptions at this stage. If we are, we are in a dangerous state."
Event organiser Callum Ross hit out at the local authority, saying he has never come across such scrutiny in his career.
He told councillors he has worked on a number of music events and street parties across Scotland, including the Edinburgh Jazz and Blues Festival and Meadows Festival, also in the capital.
He said: "There was a delay in the feedback coming back to us. We would present updated plans, but then get feedback on a point from a previous meeting."
Mr Ross insisted he was confident the concerns could be addressed in time, and Ms Dow agreed it should be possible.
Mr Hunter said: "I think it is quite clear this is an important event for Dundee and no one wants to see this fail.
"Given that Ms Dow has advised that the conditions can be resolved, I move that we grant the licence but with the condition that the issues raised are met."
The It's Happening event was originally going to be a two-day affair, with 80's pop band Squeeze headlining the first night.
However, sluggish ticket sales for December 30 forced GMC Ventures to scale back the celebrations, cancelling that night's event.