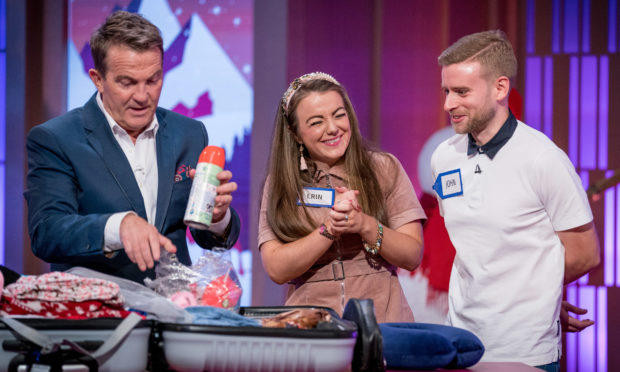 A Dundee couple is feeling the festive cheer after winning a dream holiday to Lapland on TV.
Erin Grant and John Curran will appear tonight on Take Off With Bradley And Holly, in which they go up against a family from Kent to secure the "trip of a lifetime".
The festive special, which will air tonight on BBC One, stars Holly Willoughby and Bradley Walsh.
Erin and John secured their tickets to the dream destination after being tasked with shedding holiday essentials in a bid to reduce the size of their luggage from 16.4 kilos down to 10, with the closest pair bagging their places on the flight.
The Dundee couple had the studio audience in fits of laughter after describing how Erin originally planned to take cleaning products on the trip to give the hotel a once over, along with a story of how the pair first met.
"We both met at work. John was wearing a kilt and spun around and caught my attention," she said.
The tale was met with chuckles from the studio audience until the former Dundee University geography student confirmed: "There was boxers on as well."
Erin and John were the first couple to secure their places on the flight but the programme contains a number of other surprises along the way.
Take Off with Holly and Bradley airs at 8pm on BBC One.