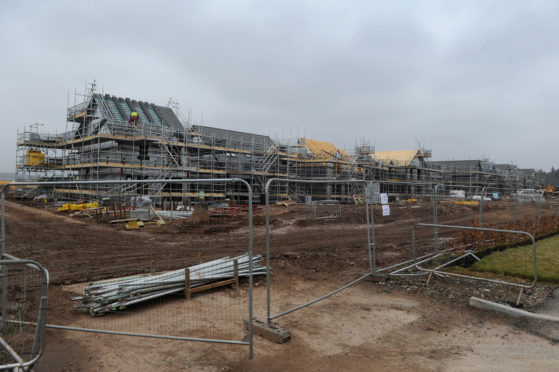 A decision on building a new primary school to serve the Western Gateway will not be made by Dundee City Council until 2025.
Residents who say there is an immediate demand for a primary school in the  development on the boundary between Dundee, Angus and Perth and Kinross have reacted with fury to the news.
Plans to create a superschool serving children between the ages of two and 18 from the three areas collapsed last year and residents now fear it could be a decade before a school is built.
Dundee City Council leader John Alexander said according to council figures there are only 58 children living in the Western Gateway – too few to justify the new school.
A report to go before Dundee City Council's  children and families services committee next week says a final decision on additional primary school requirement will not be necessary until 2025.
It adds neighbouring councils will also have to consider future education provision in the Western Gateway.
Mr Alexander said: "There are 58 pupils on site as we stand.
"We realise we've got to try and project. What we are saying is that at this time the east of the city is priority number one and looking at all the information that we've got to hand, Western Gateway is not a priority right now.
"We're not saying we're not doing the school, what we're saying is this is not the time to do it.
"We can't construct a primary school on the basis of 58 primary pupils."
Mr Alexander said there is capacity at Angus Council-run Liff Primary School, which is the closest to the Western Gateway.
"I understand residents would like to a school in that area and we are not ruling that out in any way, shape or form. What we're saying is not right now.
"It's based on facts and the financial position of the council.
"At the current time, what we have in terms of money in the bank through roof tax is jst north of £1 million. It will cost, we reckon, around £13 million for a primary school."
Ruth Bickerton from the Western Gateway Community Group said she was dismayed by the council's plans.
She said residents who paid a £4680 "roof tax" to help meet the cost of a new school believe they have been misled.
She said: "The school is basically being punted into the long grass. To say I am disappointed is an understatement.
"We've basically been sold a lie. People have paid an overhead for an education and we did a survey that showed there is really high demand.
"I think this is so short-sighted by the council."
Lochee Labour councillor Michael Marra added: "The cancellation of the planned primary school is a betrayal of Dundonians for which the SNP should not be forgiven.
"The layers of lies have been deposited, month by month, thicker and thicker, on a base of grotesque incompetence. The anger among the residents is palpable.
"Hundreds of families have been sold the SNP lie on education at the price to each family of £4680. They have the receipts but they will get absolutely nothing for their hard earned money.
"The Western Gateway has been a strategic priority for the city for decades. The handling of the development has now descended into farce. There is no school, no facilities, no pathways to get in and out and no action on a roundabout where lives are being risked daily."
An Angus Council spokeswoman said: "We continue to work with colleagues in Dundee City and Perth and Kinross in respect of our school estate.
"At present a number of children who reside in the western gateway attend Liff Primary School or Birkhill Primary School. Anyone living out with the designated catchment area of a school must submit a placing request should they wish to attend that school."