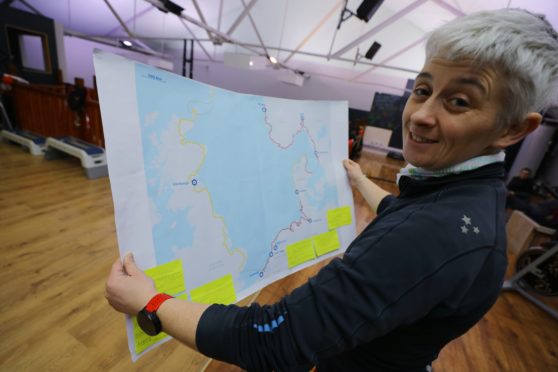 A Dundee mental health campaigner and personal trainer will run more than 3,000 miles across Europe to raise money for charity.
Louise Johnston, who set up Dundee's first mental health awareness week, plans to complete the Euro Velo 12, Europe's longest cycle route in aid of the Scottish Association for Mental Health.
The 39-year-old, who uses running to help with her depression, plans to cover 3,455 and a half miles in 100 days starting on May 2.
She is appealing for schools, businesses and individuals in Tayside and beyond to support her by setting their own challenges, sponsoring her or providing accommodation along her route.
Louise said: "I've been running for a long time – in 2016 I did the Sahara marathon and in 2017 I did the West Highland Way race.
"This will be the longest and hardest challenge I've ever done.
"I'll be running for around eight to nine hours a day and I aim to finish in 100 days.
"All of my charity work in recent years has been for mental health and this will be too.
"We still need to emphasise the importance of mental health, of talking about it and also the importance of exercise on mental health."
Louise's first mental health awareness week, called Heart Tay Heart, ran from April 21 to 28 in 2017 and has since become an annual event.
She also gives talks on mental health in schools across the city.
Louise said: "It would be great if local schools could do a challenge of their own – for example, they could do a walk or a run and then plot however many miles it is on the map of my route.
"It will be a very interesting route. I start off in Dundee, heading down to the coast, all the way through England and through a place called Harwich, then I get on a ferry to Hook of Holland in the Netherlands.
"From there I go up the west coast of Holland, through Germany, Denmark, Sweden and Noway, then I fly back to Scotland.
"Finally, I will run back from the most northern point, back to Dundee."
Louise has asked anyone interested in sponsoring her or getting involved in any way with her challenge to e-mail her at louisept4u@yahoo.co.uk