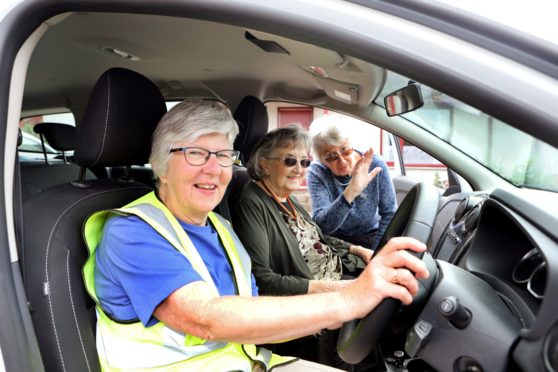 Charitable groups across Courier Country are set to benefit to the tune of £1 million thanks to funding from the National Lottery.
Among the £1,014,504 being spread out across Tayside and Fife is just over £500,000 to help create a park in the former site of Douglas Primary School, Dundee.
Plans to create a "community park" on the grounds, near Douglas Community Centre, Balmoral Avenue were approved in 2018..
Other recipients in the city include Dundee Science Centre, who will get £10,000, and Dundee FC Community Trust, who will use their £9,980 to deliver a range of online activities for older people.
Greg Fenton, community manager with the Trust, said: "Currently we are… providing digital tablets to hospitals, care homes and individuals across the city so our participants can take part in the programme. To see the group interacting digitally and seeing laughs and smiles on faces is a project well done."
In Perth and Kinross, 12 groups will get a share of the £5.5m the National Lottery Community Fund is delivering throughout Scotland.
Among them is the Ranoch Community Trust, who will receive £78,246, and Tay Valley Timeback, who run a transport project connecting people throughout Highland Perthsire, will get £59,430.
Emma Birtles, Tay Valley Timeback development officer, said: "This funding enables our project to grow and develop whilst also becoming more sustainable. It will really make a difference to our community and to people's lives."
In Fife, the Linton Lane Centre in Kirkcaldy will use their cash boost to continue offering activities such as crafts, fitness and cooking to the community.
It comes just months after centre manager Mandy Henderson asked the public to dig deep to keep the facility open after it was forced to cancel all bookings and close activities at the height of the coronavirus pandemic.
Welcoming the £50,172 windfall, she said a full programme would be on offer to the community as soon as the centre opened fully.
"A lot of the people who benefit from these groups are young parents and adults with additional support needs who enjoy the craft and cookery group as their carers attend so they are supported and feel part of the group," she said.
"Although there is a lot of poverty in the area surrounding the centre there is also a huge amount of community spirit."
Minority ethnic older people in Fife will also benefit, thanks to a £24,659 award to Fife Centre for Equalities.
Chief executive Nina Munday said it would enable the centre to work with other organisations to build better connections.
She said: "Reaching minority ethnic older people during the lockdown has been difficult because of the lack of infrastructure."
In all, 13 groups in Fife will share in £172,302 of funding.
It includes £10,000 for the Vine Church in Dunfermline, which delivers 150 meals to people in need every day.
In Angus, Brechin Healthcare Group, Hedzup Ltd and Voluntary Action Angus will all receive between £3,000 and £9,900.