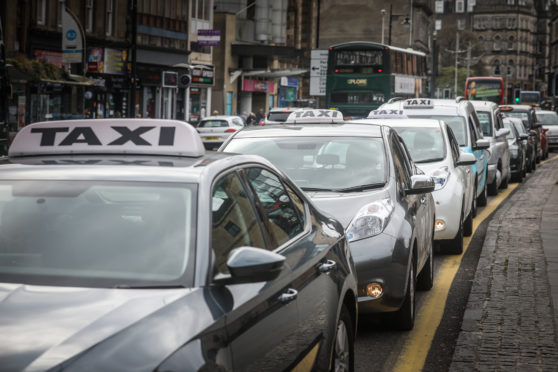 A union boss has called for taxi drivers and passengers to work together to ensure the sector flourishes under the difficult circumstances brought about by coronavirus.
Chris Elder, Unite the Union taxi branch secretary, responded to comments by Graeme Stephen, chairman Dundee Taxi Association, outlining his "no exception" rule to facemasks in his vehicle.
Head and Stroke Scotland criticised the policy, saying it would have a negative impact on people with breathing problems.
Mr Elder has also called on greater financial support from local and national politicians to help drivers adapt.
One solution he has suggested is an increased use of plastic screens and suggests authorities could help fund their installation.
He said: "This has been allowed by Dundee City Council's licensing committee for the time being. The Scottish Government and council should help fund operators to fit these screens if they wish to fit them in their vehicle.
"I would advise passengers who cannot wear a face covering to use the rear of the vehicles that are fitted with partitioned screens or alternatively use a face shield if possible to limit the spread of Covid-19.
"Safety for all passengers and drivers is paramount. We do still more financial assistance from the Scottish Government to keep passengers and drivers as safe as possible.
"Money was made available for other transport industries but unfortunately, the taxi and private hire trade was left out of the grants."
Mr Elder also called on passengers to be understanding of taxi drivers' personal reasons if they have to refuse a fare.
"I would ask passengers to be courteous to drivers and drivers to be courteous to passengers during this pandemic. If we all do our bit to help (it can) stop the spread of the virus.
"Unite's taxi branch has given out free hand sanitiser and car sanitisers to members to try and stop the spread of the virus. Any members needing these products, let us know and we will supply them."
A Dundee City Council spokesman said: "We are happy to allow these screens to be installed provided they are of suitable quality and properly fitted.
"However, the council will not be in a position to offer financial assistance to operators for these purposes."
A Scottish Government spokesman said: "We are clear there should be measures in place to ensure private hire car drivers, and passengers, are safe. The installation of protective barriers or safety screens is a decision for licensing authorities, operators and the firm or individual operating the vehicle.
"We announced £7 million of funding to support installation of equipment that reduces the risk of COVID-19 transmission on public, community and school transport, including taxi and private hire operators. We expect further information on criteria and how to apply to be issued soon.
"Throughout this unprecedented economic crisis we have listened to businesses and acted quickly to offer support, which now exceeds £2.3 billion. We would encourage eligible self-employed taxi drivers to apply to the UK Government's self-employed scheme or the Scottish Government's Newly Self-Employed Hardship Fund, and if they are small business they may be eligible for small business grants even if they don't have premises, but employ one member of staff.
"Taxi companies can also apply to the Job Retention Scheme to support for furloughed staff, and we are urging the UK Government to reconsider its decision to withdraw blanket support – they must urgently implement some form of extension which would continue to provide help for the sectors that have been most heavily affected. Extending the Job Retention Scheme for eight months would save 61,000 jobs in Scotland and help secure a stronger economic recovery from COVID-19."