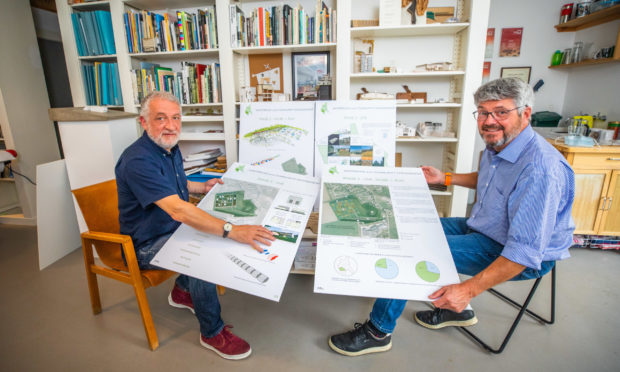 A Perth architect is designing a pioneering self-build and custom design community in Perthshire to help tackle economic, social and environmental issues in the area.
Fergus Purdie has submitted plans for the pilot community at Thorny Hill near Dunning, which will comprise around 30 homes as well as industrial land and green spaces for allotments and other communal areas.
The architect has been working on the innovative project for three years and believes the community would put Perth and Kinross at the forefront of tackling the issue of affordable housing and enable people to build houses that better suit their needs.
He said: "It will be quite different from a standard estate.
"We're trying to knit it into an existing community. We're looking and sustainability and low carbon.
"It's for people that want to take more control and it will look quite different from a standard housing development.
"We'll also create an area with a more industrial aspect to it, where people can have workshops or a small business and the site will also have a large area that will remain undeveloped."
The architect has the backing of the Scottish Government through its Challenge Fund initiative and believes his plans will be a "benchmark" for similar projects across the country.
A spokesperson for the Scottish Government's planning and architecture division said it is "delighted" the project had progressed from the feasibility and engagement stage.
"The Fergus Purdie and Perth and Kinross Council project was selected due to its focus on exploring the viability of self and custom build plots for providing affordable homes, with the work including a feasibility study, public engagement and funding options to inform a development strategy for delivery."
Housing minister Kevin Stewart said: "Self and custom build properties are an innovative alternative in housing, and I am delighted we have been able to fund these projects, going above and beyond our original aims.
"As the successful projects show, self and custom builds can provide new ways to deliver affordable housing, ensure homes are tailored to individual needs, and regenerate previously disused sites to breathe new life into communities – particularly in remote and rural areas.
"Support for self and custom builds is just one step we are taking to boost the availability of housing and ensuring that it meets the needs of people and communities across Scotland."