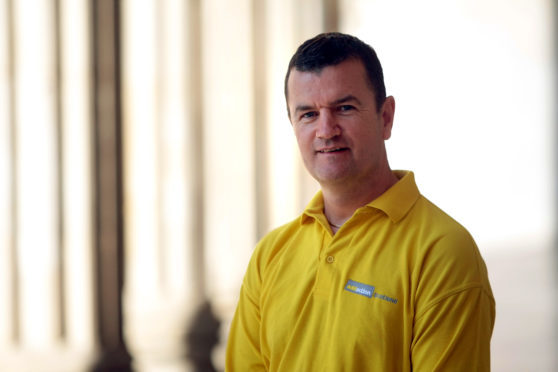 An emergency antidote to treat drug overdose victims will be carried by police officers in Dundee as part of a pilot project.
The nasal spray Naloxone counters the effects of overdoses from opioids such as heroin.
Viewed as a first aid treatment, it can provide extra time for the ambulance service to arrive on scene and take over emergency medical treatment.
The trial, which will run for six months in Glasgow East, Falkirk and Dundee, is being introduced in response to rising drug-related deaths in Scotland.
Dave Barrie, from the Dundee branch of drug addiction support charity We Are With You, said the move is "fantastic news".
"We are really supportive. It's a big step for Police Scotland to take and another element of life-saving intervention," he said.
"It's another strand in the fight against fatal overdoses and hopefully it will go a long way to saving lives.
"Officers will be given substantial training in symptoms of an overdose and become much more expert in substance abuse and identifying high-risk people.
"I'm pretty sure the evidence from the pilot will be so strong that they will roll it out across Scotland permanently."
Latest available figures show there were 1,187 drug-related deaths in Scotland in 2018, the highest number since records began in 1996.
Assistant Chief Constable Gary Ritchie, head of drug strategy for Police Scotland, said: "There has been a great deal of careful consideration given as to whether our officers should carry Naloxone as an additional piece of equipment and consultation has taken place with a range of partners through the Naloxone Delivery Steering Group.
"In doing so, it is hoped the testbed areas will show the value of our officers carrying this treatment as an extension to the existing extensive first aid training already provided by the organisation."
Figures from the National Records of Scotland indicate opiates-opioids were implicated in, or a potential contributory factor in, 86% of drug-related deaths in 2018.
Carrying Naloxone will be voluntary but all frontline officers of the rank of constable, sergeant and inspector within the pilot areas will be required to undertake a training and education session.
After the session, which will provide instruction on using the spray, officers will be asked to decide whether they wish to carry Naloxone and participate in the pilot project.