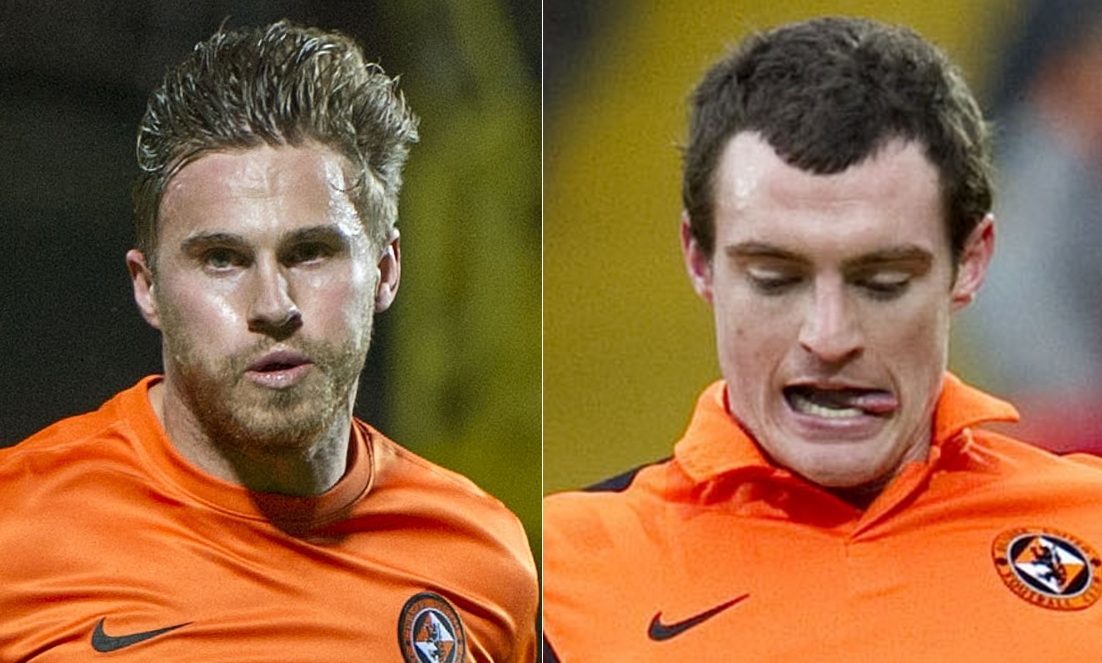 Former Dundee United star David Goodwillie will not be selected to play for new club Plymouth Argyle until the club has considered a court judgment which ruled he and a former Tannadice teammate raped a woman.
The former Scotland international and his ex-United teammate David Robertson have been ordered to pay £100,000 damages to the woman despite never facing a criminal trial.
Goodwillie was accused of serious sexual assault against a young woman in Armadale, West Lothian, in January 2011 but the charge was dropped in July that year.
Robertson was also questioned in connection with the incident.
The woman had originally sought £500,000 in compensation but damages of £100,000 were agreed in the civil action at the Court of Session in Edinburgh.
David Goodwillie and David Robertson rape ruling: Woman describes "long, harrowing journey" for justice
In his judgment, Lord Armstrong said: "Having carefully examined and scrutinised the whole evidence in the case, I find the evidence for the pursuer to be cogent, persuasive and compelling.
"In the result, therefore, I find that in the early hours of Sunday January 2, 2011, at the flat in Greig Crescent, Armadale, both defenders took advantage of the pursuer when she was vulnerable through an excessive intake of alcohol and, because her cognitive functioning and decision-making processes were so impaired, was incapable of giving meaningful consent; and that they each raped her."
Plymouth Argyle said in a statement: "We note today's judgment from the Court of Session in Edinburgh regarding David Goodwillie.
"We await the full report, which we will consider in detail before making any comment.
"Until such time, David Goodwillie will not be selected to play for Plymouth Argyle."
Robertson currently plays for Scottish League Two side Cowdenbeath.
The woman, who was 24 at the time of the incident, was left "devastated, upset and confused" when she was told there was to be no prosecution of the pair.
Lord Armstrong said: "She found the decision difficult to understand and had felt that she had not been believed.
"She felt that her life had been destroyed by something which had happened although, because of her lack of memory, she was not fully aware of what it was that had caused that effect."
He said that she had enjoyed life before the incident but that her life changed following the decision not to proceed with the prosecution.
She found it difficult to trust anyone and became unsociable, and experienced suicidal thoughts several times.
Goodwillie and Robertson both maintain that they did have sexual intercourse with the woman, but that it was consensual.
The woman, now aged 30, remembered going to the Glenmavis Tavern in Bathgate on the evening of January 1, 2011.
She remembered meeting Robertson there but had no memory of meeting Goodwillie.
Her next recollection was waking the following morning in a house which she did not recognise. She was naked and could not find her clothes.
Footballers Goodwillie and Robertson went to the Glenmavis Tavern on the evening of January 1 after playing for Dundee United against Aberdeen, at Pittodrie that day.
Goodwillie had scored an equalising goal in the 95th minute of the match.
Lord Armstrong heard the evidence of 20 witnesses over 10 days.
The judge said he did not find Goodwillie's evidence to be "persuasive", and did not find Robertson, referred to as the second defender, credible.
He said: "Like the first defender, I assessed the second defender as a witness who was being selective as to what he was prepared to tell the court and whose evidence, directed as it was entirely to his own interests, was partial and partisan.
"He also did not present as a witness who was being entirely candid. On the significant issues arising in the case, I did not find his evidence to be credible or reliable."