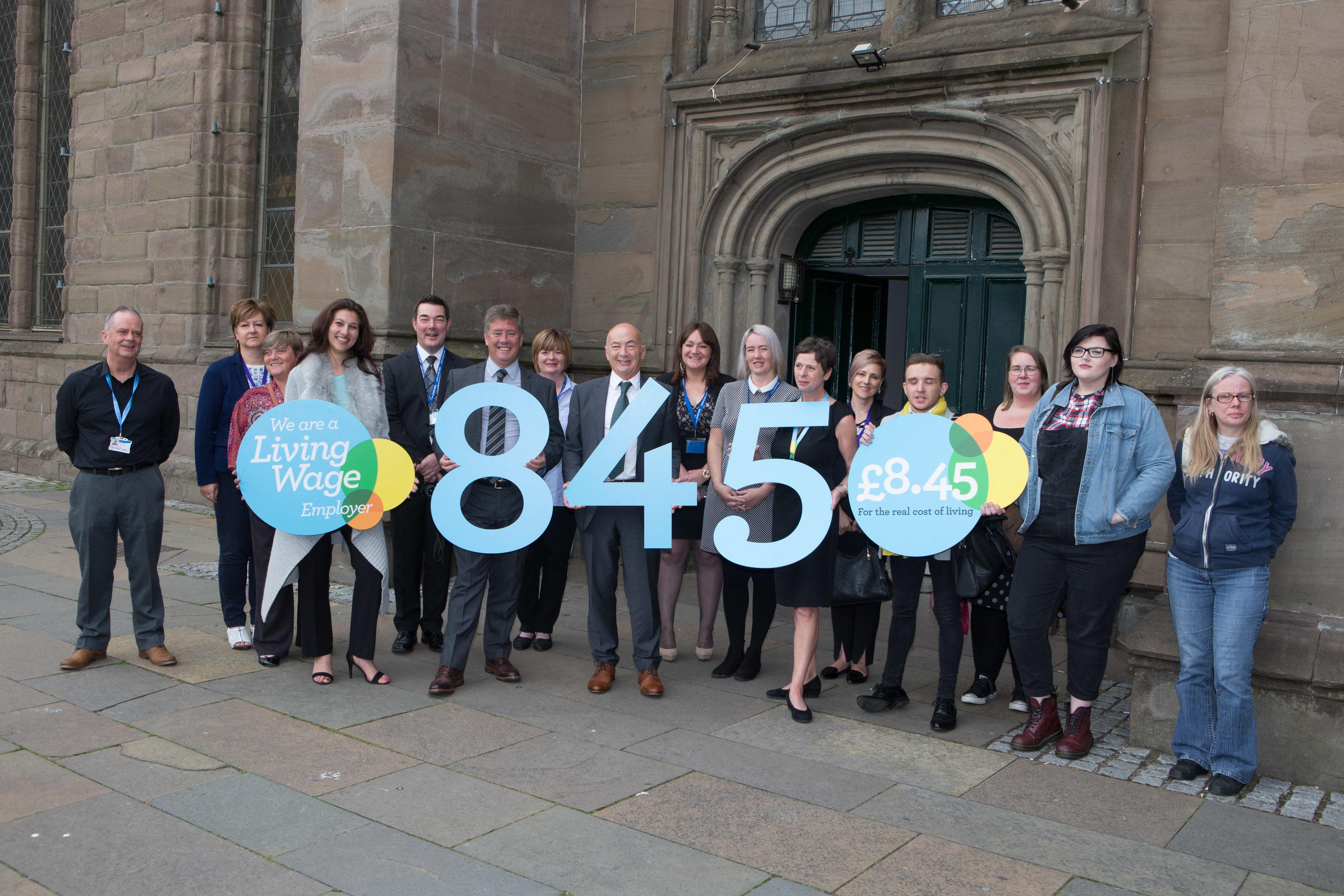 An event was held in Dundeeon Wednesday to mark a major milestone in the effort to achieve 1000 Living Wage employers in Scotland.
Cabinet Secretary for Economy, Jobs and Fair Work Mr Keith Brown visited the Steeple Church at the city's Nethergate to congratulate the Wise Group on becoming the 845th accredited employer.
The milestone is being celebrated as the minimum wage a company needs to offer to be accepted as a Living Wage employer is set at £8.45 an hour.
Mr Brown said that reaching the number could only encourage other businesses to follow suit.
He said: "This proven investment in people leads to increased productivity and reduced staff absence, while sending a strong signal about fairness to your organisation's stakeholders, and I applaud Wise for recognising it's value.
"As well as setting a great example to other businesses, and in particular other social enterprise's across Scotland, this achievement marks another positive milestone on our journey towards having 1,000 Living Wage accredited employers by autumn 2017."
This rate is significantly higher than the statutory minimum wage for over 25s of £7.50 per hour, with non-profit campaign group The Poverty Alliance, as well as the Scottish Government, pushing for more employers to pay the rate.
The wage is calculated according to the real costs of living and is set independently and updated annually.
Laurie Russell, Chief Executive of the Wise Group said of the achievement: "The Wise Group culture focuses on ensuring that all our staff feel valued and
recognised.
"We have chosen to pay the living wage as an important part of
our investment in our people. I believe that other Scottish employers and
their employees would also see wider benefits from adopting it."
Lynn Cunningham, the Dundee-based officer for the Scottish Living Wage Accreditation Initiative, added that those earning less than the Living Wage were "struggling" and commended the Wise Group for the step.
The visit coincided with the announcement of Scotland's quarterly Labour Market statistics which showed Scotland's unemployment rate was now at its lowest level for 25 years.
Mr Brown added that the figures were "very encouraging" and that various infrastructure projects throughout the country had contributed to the fall.
"These latest figures show our labour market remains resilient and robust with unemployment now at a record low," he said.
"Our employment rate is also rising, which is good news, and means 25,000 more people are in employment compared to the last quarter.
"When considered alongside the fact that last week's GDP stats show Scotland's growth rate over the last quarter to be four times that of the UK, this is further evidence of the strength of the Scottish economy."